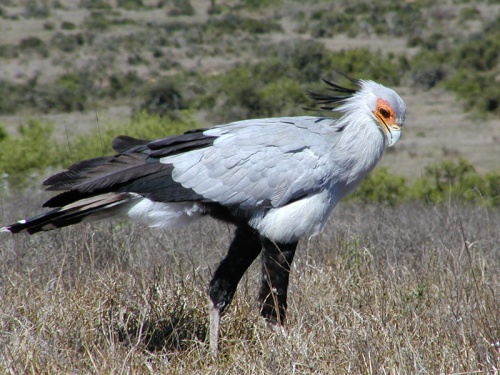 Sagittarius serpentarius
Identification
125–150 cm (4 - 5 feet long); 7-foot wingspan

Multiple feathered crest
Heavily scaled lower legs
Distribution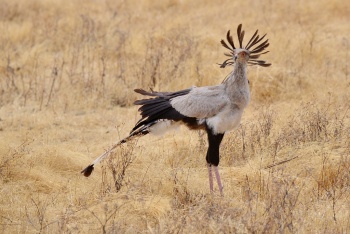 Sub-Saharan Africa: widespread from Senegal and southern Mauritania east to Ethiopia and western Somalia and south to South Africa. Populations crashing in some parts of its range.
Absent from the forested areas of Central Africa. Commonest in southern Africa. Resident and nomadic.
Taxonomy
The only species in the family Sagittariidae.
This is a monotypic species[1].
Habitat
Open grassland and semi-desert, Acacia woodland.
Behaviour
Diet
Their diet consists mostly of arthropods, especially grasshoppers and beetles. They also eat small amphibians, reptiles, birds and mammals.
They are very skilled at catching snakes, including poisonous cobras and adders. All but the largest prey are swallowed whole. They walk, generally in pairs, searching for prey which they kill with a quick kick of the foot
Breeding
They build a platform nest of sticks on the top of a low tree. The 2 eggs are incubated for 42 - 46 days. The young fledge between 9 and 15 weeks of age.
References
Clements, J. F., T. S. Schulenberg, M. J. Iliff, D. Roberson, T. A. Fredericks, B. L. Sullivan, and C. L. Wood. 2017. The eBird/Clements checklist of birds of the world: v2017, with updates to August 2017. Downloaded from http://www.birds.cornell.edu/clementschecklist/download/
AvianWeb
Handbook of the Birds of the World Alive (retrieved Sept 2017)
Recommended Citation
External Links