Alternative names: Saka; Sakalava Fody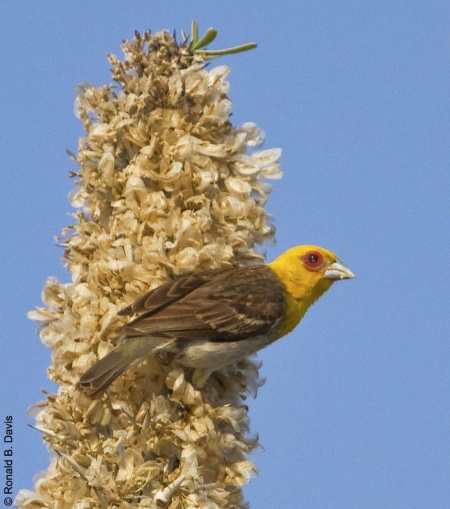 Ploceus sakalava
Identification
15 cm
Male
Yellow head and upper breast, sharply demarcated from rest of plumage and reddish bare skin around eye in breeding plumage, grey head with pale pink bare skin around eye in non-breeding plumage
Grey-brown wings with dark centres and paler brown fringes in fresh plumage
Dark brown upperwing and tail with narrow paler edges on rectrices and remiges
Grey lower breast, belly and flanks, dull white undertail-coverts
Light blue-grey bill
Female
Grey head with paler greyish-buff lores, rusty cheek and long supercilium and rusty and grey double stripe between cheek and throat
Rest of plumage similar to male in non-breeding plumage but paler underparts, whitish throat and undertail-coverts
Juvenile
Similar to female but paler, especially on head
Pale horn-coloured bill
minor is very similar to nominate but slightly smaller.
Distribution
Endemic to Madagascar.
Common in parts of its range. Locals think that weavers nesting in their village is a sign of good fortune.
Taxonomy
Two subspecies recognized:
P. s. sakalava in northern and northwestern Madagascar
P. s. minor in western and southwestern Madagascar
Possibly forms a superspecies with Nelicourvi Weaver and has been considered conspecific with it.
Habitat
Dry forests and shrubland, often near human settlement. Occurs below 700 m, sometimes higher up.
Behaviour
Diet
Feeds on seeds but takes also insects and spiders, especially in breeding season.
Breeding
Breeding season may depend on local rainfall. Usually September to October in northern Madagascar and November to April in the western part. Breeding more irregular in the arid south.
A colonial breeder with 10 to 120 nests in a colony, up to 40 in a single tree. Primarly monogamous, some males may be polygynous. The nests are retort-shaped, the entrance extending into a 17 to 40 cm long tunnel. It's made from grass, leaf steams and strips of palm leaf. The nests are placed in a palm or a tree, 2 to 25 m above the ground, sometimes below the nest of a Pied Crow, a Black Kite, a Madagascar Buzzard or a Madagascar Fish Eagle. The nests can also be suspended from a thatched roof of a village house. Lays 2 to 4 eggs.
The nests are sometimes preyed on by Madagascar Harrier Hawk and are also used by Madagascar Munia.
Movements
Colonies are left after breeding, suggesting some local movements.
Gallery
Click on photo for larger image
References
Clements, J. F., T. S. Schulenberg, M. J. Iliff, D. Roberson, T. A. Fredericks, B. L. Sullivan, and C. L. Wood. 2015. The eBird/Clements checklist of birds of the world: v2015, with updates to August 2015. Downloaded from http://www.birds.cornell.edu/clementschecklist/download/
Handbook of the Birds of the World Alive (retrieved May 2016)
Recommended Citation
External Links