Lepidopyga coeruleogularis
Identification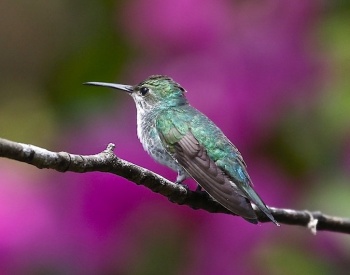 8·5–9·5 cm (3¼-3¾in)
Bill black except for lower mandible where basal half is reddish.
Mostly metallic green to bright green with throat and upper breast violet-blue while tail is forked and dark blue.
Female differs in having underparts mostly white with green flanks and tail that is white-tipped and have green central tail feathers.
Distribution
South-west Costa Rica (between the Osa Peninsula and the Panama border), Panama, and Colombia.
Taxonomy
Subspecies
Three subspecies are recognized[1]:
L.c. coeruleogularis - Pacific slope of south-western Costa Rica and western Panama (Chiriquí to Canal Zone)
L.c. confinis - Caribbean slope and some of Pacific slope of eastern Panama (Darién) and adjacent north-western Colombia
L.c. coelina - North Colombia (northern Chocó to Santa Marta region)
Habitat
Moist, open lowland forests, clearings, scrub, or mangrove, mostly within a few miles of the coast.
Behaviour
Diet
Their main diet consists of nectar and arthropods. They are mostly seen feeding rather low on flowers, often in scrubs, otherwise trees.
Breeding
They place their small cup-shaped nest in the fork of a tree.
References
Clements, J. F., T. S. Schulenberg, M. J. Iliff, D. Roberson, T. A. Fredericks, B. L. Sullivan, and C. L. Wood. 2017. The eBird/Clements checklist of birds of the world: v2017, with updates to August 2017. Downloaded from http://www.birds.cornell.edu/clementschecklist/download/
Ridgely & Gwynne 1989. Birds of Panama. Princeton Paperbacks. ISBN 0691025126
Angher and Dean, The Birds of Panama
Handbook of the Birds of the World Alive (retrieved March and April 2018)
Recommended Citation
External Links