Batis senegalensis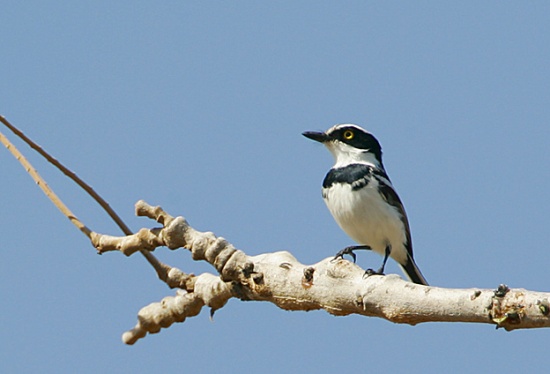 Identification
Sexually dimorphic. Medium sized (11 cm) Batis with a longish tail. Males are pale slate grey on the forehead / crown / nape. Isolate white spot at the junction of the nape and back. Back to upper tail coverts grey, with a distinct brown component and whitish tips to the rump feathers. Broad white supercillia almost join over the forehead and stretch as far as the sides of the nape, almost meeting the nape spot. Lores, earcoverts and sides of neck black. Chin and throat pure white, narrow black beastband, narrower in the centre of the breast, rest of underparts white. Wings black with inner 2 greater coverts white, broad white tips to the median coverts and white margins to the tertials. Tail black with white margins to the outer feathers. Eye golden yellow, bill and legs black. Females have a buff supercillium, narrow rufous breastband, reaching over the base of the neck as a collar, and slightly dusky fore flanks.
Distribution
Africa. West Africa from extreme SE Mauritania to central Chad and from eastern Sierra Leone to Cameroon. Not found in coastal areas from Guinea-Conakry to Cameroon.
Taxonomy
This is a monotypic species[1].
Habitat
Open savannah woodland, especially Acacia
Behaviour
Vocalization
1 - 2 whistles preceding a weak buzzing.
References
Clements, JF. 2010. The Clements Checklist of Birds of the World. 6th ed., with updates to December 2010. Ithaca: Cornell Univ. Press. ISBN 978-0801445019. Spreadsheet available at http://www.birds.cornell.edu/clementschecklist/Clements%206.5.xls/view
Recommended Citation
External Links