This article is incomplete.
This article is missing one or more sections. You can help the BirdForum Opus by expanding it.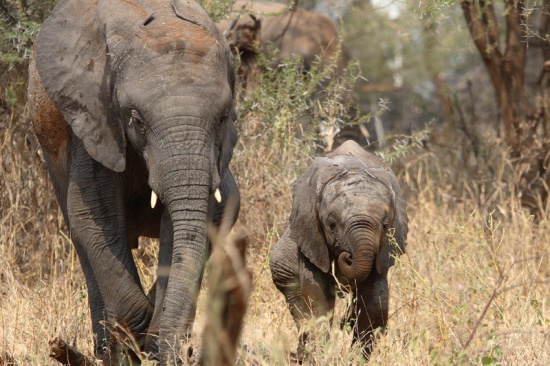 Overview
Although most famous for its mammals the Serengeti is also one of the best birding areas in East Africa with more than 520 species recorded.
The park covers more than 14,700km2 and adjoins Kenya's Masai Mara to the north. The main habitat in the park is open grassy plains with large rocky outcrops but there are also large areas of wooded savanna, scrub and riverine woodland.
Birds
Notable Species
Three Tanzanian endemics can be seen in the park: Grey-breasted Francolin, Fischer's Lovebird and Rufous-tailed Weaver as well as localised species such as Usambiro Barbet, Red-throated Tit and Somali Short-toed Lark.
Other plains specialities include Black-winged Lapwing, Yellow-throated Sandgrouse and Chestnut-bellied Sandgrouse, White-bellied Bustard and other bustards, Abyssinian Scimitarbill and both oxpeckers.
Saddle-billed Stork, Hadada Ibis and African Sacred Ibis, Goliath Heron and Black-headed Heron and various ducks and kingfishers are among the many birds attracted to the rivers and pools.
Raptors are numerous and around 50 species with Secretary Bird, Bateleur, Tawny Eagle and Martial Eagle among the most frequently seen.
Check-list
Birds you can see here include:
Common Ostrich, Little Grebe, Great Crested Grebe, Black-necked Grebe, Pink-backed Pelican, Great Cormorant, African Darter, Dwarf Bittern, Grey Heron, Goliath Heron, Black-headed Heron, Purple Heron, Squacco Heron, Madagascar Squacco Heron, Cattle Egret, Green-backed Heron, Great White Egret, Black Heron, Intermediate Egret, Black-crowned Night Heron, African Open-bill Stork, Abdim's Stork, White Stork, Saddle-billed Stork, Marabou Stork, Yellow-billed Stork, Hadada Ibis, Glossy Ibis, African Sacred Ibis, African Spoonbill, Lesser Flamingo, Greater Flamingo, Fulvous Whistling Duck, White-faced Whistling-Duck, Egyptian Goose, Northern Pintail, Cape Wigeon, Northern Shoveler, Common Teal, Red-billed Teal, Hottentot Teal, Eurasian Wigeon, Garganey, African Black Duck, Yellow-billed Duck, Southern Pochard, African Pygmy Goose, Maccoa Duck, Spur-winged Goose, Knob-billed Duck, Secretary Bird, African White-backed Vulture, Rüppell's Vulture, Hooded Vulture, Egyptian Vulture, Lappet-faced Vulture, White-headed Vulture, Lammergeier, Western Marsh Harrier, African Marsh Harrier, Pallid Harrier, Montagu's Harrier, African Harrier Hawk, Brown Snake Eagle, Short-toed Eagle, Bateleur Eagle, Shikra, Ovampo Sparrowhawk, Great Sparrowhawk, Little Sparrowhawk, Greater Spotted Eagle, Lesser Spotted Eagle, Eastern Imperial Eagle, Tawny Eagle, Verreaux's Eagle, Wahlberg's Eagle, Augur Buzzard, Common Buzzard, Ayres's Hawk Eagle, African Hawk Eagle, Lizard Buzzard, Long-crested Eagle, Gabar Goshawk, Dark Chanting Goshawk, Pale Chanting Goshawk, Martial Eagle, Crowned Hawk-Eagle, African Fish Eagle, Black Kite, African Cuckoo-Hawk, Black-shouldered Kite, Bat Hawk, Osprey, Fox Kestrel, Amur Falcon, Grey Kestrel, Lanner Falcon, Red-necked Falcon, Dickinson's Kestrel, Eleonora's Falcon, Lesser Kestrel, Peregrine Falcon, Greater Kestrel, African Hobby, Northern Hobby, Common Kestrel, African Pygmy Falcon, Common Quail, Harlequin Quail, Red-necked Spurfowl, Coqui Francolin, Hildebrandt's Francolin, Yellow-necked Francolin, Red-winged Francolin, Grey-breasted Francolin, Crested Francolin, Shelley's Francolin, Scaly Francolin, Crested Guineafowl, Helmeted Guineafowl, Little Buttonquail, Grey Crowned Crane, African Crake, Lesser Moorhen, Common Moorhen, African Black Crake, Allen's Gallinule, African Swamphen, Crested Coot, Black-bellied Bustard, Buff-crested Bustard, White-bellied Bustard, Denham's Bustard, Kori Bustard, African Jacana, Greater Painted Snipe, Black-winged Stilt, Pied Avocet, Spotted Thick-knee, Stone-curlew, Water Thick-knee, Temminck's Courser, Two-banded Courser, Violet-tipped Courser, Heuglin's Courser, Collared Pratincole, Little Ringed Plover, Ringed Plover, Lesser Sand Plover, Chestnut-banded Plover, Kittlitz's Sand Plover, Three-banded Plover, Grey Plover, White-headed Lapwing, Blacksmith Lapwing, Crowned Lapwing, Long-toed Lapwing, Senegal Lapwing, Black-winged Lapwing, African Wattled Lapwing, Spur-winged Lapwing, Brown-chested Wattled Plover, Common Sandpiper, Spotted Redshank, Common Redshank, Common Greenshank, Wood Sandpiper, Green Sandpiper, Marsh Sandpiper, Terek Sandpiper, Common Snipe, African Snipe, Jack Snipe, Sanderling, Curlew Sandpiper, Little Stint, Black-tailed Godwit, Ruff, Ruddy Turnstone, Red-necked Phalarope, Lesser Black-backed Gull, Black-headed Gull, Gull-billed Tern, Whiskered Tern, White-winged Tern, African Skimmer, Chestnut-bellied Sandgrouse, Yellow-throated Sandgrouse, Namaqua Dove, Ring-necked Dove, African Mourning Dove, Red-eyed Dove, Laughing Dove, Emerald-spotted Wood-Dove, Tambourine Dove, Speckled Pigeon, African Green Pigeon, Fischer's Lovebird, Brown Parrot, Didric Cuckoo, African Emerald Cuckoo, Klaas' Cuckoo, Great Spotted Cuckoo, Black-and-White Cuckoo, Levaillant's Cuckoo, Common Cuckoo, Black Cuckoo, African Cuckoo, Red-chested Cuckoo, Black Coucal, Blue-headed Coucal, White-browed Coucal, Barn Owl, African Marsh Owl, Spotted Eagle Owl, Verreaux's Eagle Owl, African Wood Owl, African Barred Owlet, Pearl-spotted Owlet, White-faced Scops Owl, African Scops Owl, Slender-tailed Nightjar, Gabon Nightjar, Dusky Nightjar, Freckled Nightjar, Pennant-winged Nightjar, Little Swift, Common Swift, Black Swift, White-rumped Swift, Horus Swift, Alpine Swift, African Palm Swift, Scarce Swift, Speckled Mousebird, Blue-naped Mousebird, Giant Kingfisher, Pied Kingfisher, Malachite Kingfisher, Brown-hooded Kingfisher, Striped Kingfisher, Grey-headed Kingfisher, Woodland Kingfisher, African Pygmy Kingfisher, White-throated Bee-eater, European Bee-eater, Swallow-tailed Bee-eater, Cinnamon-chested Bee-eater, Blue-cheeked Bee-eater, Little Bee-eater, Madagascar Bee-eater, Lilac-breasted Roller, European Roller, Rufous-crowned Roller, Abyssinian Roller, African Broad-billed Roller, Eurasian Hoopoe, Common Scimitarbill, Violet Wood Hoopoe, Abyssinian Scimitarbill, Green Wood Hoopoe, Black-and-white-casqued Hornbill, Crowned Hornbill, Von der Decken's Hornbill, Northern Red-billed Hornbill, African Grey Hornbill, Southern Ground Hornbill, Double-toothed Barbet, Red-fronted Barbet, Spotted-flanked Barbet, White-headed Barbet, Black-throated Barbet, Yellow-rumped Tinkerbird, Red-fronted Tinkerbird, Red-and-Yellow Barbet, Usambiro Barbet, Black-throated Honeyguide, Lesser Honeyguide, Scaly-throated Honeyguide, Wahlberg's Honeyguide, Little Spotted Woodpecker, Nubian Woodpecker, Cardinal Woodpecker, Grey Woodpecker, Bearded Woodpecker, Red-capped Lark, Fischer's Finch-Lark, Chestnut-backed Finch-Lark, Short-tailed Lark, Rufous-naped Lark, Fawn-coloured Lark, Northern White-tailed Bush-Lark, Singing Bush Lark, Flappet Lark, Somali Short-toed Lark, Northern House Martin, Lesser Striped Swallow, Angola Swallow, Red-rumped Swallow, African Rock Martin, Grey-rumped Swallow, Barn Swallow, Rufous-chested Swallow, Mosque Swallow, Wire-tailed Swallow, White-headed Saw-wing Swallow, Black Saw-wing Swallow, African Sand Martin, Sand Martin, Sharpe's Drongo, African Golden Oriole, Black-headed Oriole, Eurasian Golden Oriole, Pied Crow, Cape Rook, White-bellied Tit, Red-throated Tit, African Penduline Tit, Arrow-marked Babbler, Sharpe's Pied-Babbler, Rufous Chatterer, Black Cuckoo-Shrike, Purple-throated Cuckoo-Shrike, Grey Cuckoo-Shrike, Grey-olive Greenbul, Fischer's Greenbul, Common Bulbul, Red-tailed Chat, White-browed Scrub-Robin, Spotted Morning Thrush, White-browed Robin Chat, Red-capped Robin Chat, White-throated Robin, Common Nightingale, Little Rock Thrush, Rufous-tailed Rock Thrush, Northern Anteater Chat, Sooty Chat, Isabelline Wheatear, Mourning Wheatear, Northern Wheatear, Capped Wheatear, Pied Wheatear, Whinchat, Mocking Cliff Chat, Kurrichane Thrush, Lesser Swamp Warbler, Sedge Warbler, Moustached Warbler, Yellow-breasted Apalis, Grey-backed Camaroptera, Yellow Warbler, Rock-loving Cisticola, Desert Cisticola, Wing-snapping Cisticola, Pectoral-patch Cisticola, Rattling Cisticola, Tabora Cisticola, Winding Cisticola, Zitting Cisticola, Croaking Cisticola, Grey-capped Warbler, Yellow-bellied Eremomela, Green-capped Eremomela, Eastern Olivaceous Warbler, Banded Parisoma, Buff-bellied Warbler, Wood Warbler, Willow Warbler, Tawny-flanked Prinia, Blackcap, Garden Warbler, Red-faced Crombec, African Grey Flycatcher, Pale Flycatcher, Silverbird, Northern Black Flycatcher, Southern Black Flycatcher, African Dusky Flycatcher, Swamp Flycatcher, Ashy Flycatcher, Spotted Flycatcher, Boehm's Flycatcher, Chin-spot Batis, Brown-throated Wattle-eye, African Paradise Flycatcher, Black-headed Paradise Flycatcher, Bush Pipit, Red-throated Pipit, Plain-backed Pipit, Grassland Pipit, Long-billed Pipit, Tree Pipit, Rosy-breasted Longclaw, Yellow-throated Longclaw, African Pied Wagtail, Yellow Wagtail, Black-headed Gonolek, Tropical Boubou Shrike, Slate-coloured Boubou Shrike, Grey-headed Bush-Shrike, Sulphur-breasted Bush-Shrike, Brubru Shrike, Brown-headed Tchagra Shrike, Marsh Tchagra, Black-headed Tchagra Shrike, Magpie Shrike, Northern Fiscal, Red-backed Shrike, Taita Fiscal Shrike, Grey-backed Fiscal Shrike, Isabelline Shrike, Lesser Grey Shrike, White-crowned Shrike, Grey-crested Helmet Shrike, Straight-crested Helmet Shrike, Violet-backed Starling, Wattled Starling, Greater Blue-eared Glossy-Starling, Ruppell's Glossy-Starling, Red-winged Starling, Waller's Chestnut-winged Starling, Hildebrandt's Starling, Superb Starling, Yellow-billed Oxpecker, Red-billed Oxpecker, Collared Sunbird, Eastern Violet-backed Sunbird, Amethyst Sunbird, Little Purple-banded Sunbird, Red-chested Sunbird, Mariqua Sunbird, Beautiful Sunbird, Golden-winged Sunbird, Scarlet-chested Sunbird, Variable Sunbird, Green-headed Sunbird, African Yellow White-eye, Grosbeak Weaver, Red-headed Weaver, Parasitic Weaver, White-winged Widowbird, Red-naped Widowbird, Fan-tailed Widowbird, Yellow Bishop, Black Bishop, Black-winged Bishop, Yellow-mantled Widowbird, Yellow-shouldered Widowbird, Jackson's Widowbird, Southern Red Bishop, Black-headed Weaver, Lesser Masked-Weaver, Golden-backed Weaver, Black-necked Weaver, Spectacled Weaver, Chestnut Weaver, Speke's Weaver, Vitelline Masked-Weaver, Holub's Golden-Weaver, Cardinal Quelea, Red-headed Quelea, Red-billed Quelea, Red-billed Buffalo-Weaver, Rufous-tailed Weaver, White-browed Sparrow-Weaver, Grey-headed Social-Weaver, Chestnut Sparrow, Northern Grey-headed Sparrow, Kenya Rufous Sparrow, Yellow-spotted Bush Sparrow, Speckle-fronted Weaver, Village Indigobird, Purple Indigobird, Straw-tailed Whydah, Steel-blue Whydah, Pin-tailed Whydah, Eastern Paradise Whydah, Zebra Waxbill, Common Waxbill, Black-cheeked Waxbill, Yellow-bellied Waxbill, Crimson-rumped Waxbill, African Firefinch, Red-billed Firefinch, Quailfinch, Green-winged Pytilia, Red-cheeked Cordon-bleu, Blue-capped Cordon-bleu, Purple Grenadier, Cut-throat Finch, Black-and-white Mannikin, Bronze Mannikin, Grey-headed Silverbill, African Silverbill, Cinnamon-breasted Rock Bunting, Kenya Yellow-rumped Seedeater, White-bellied Canary, Yellow-fronted Canary, Streaky Seedeater, Brimstone Canary
Other Wildlife
Most visitors to the Serengeti come to see the largest concentration of large mammals anywhere on earth. More than a million Zebra, Wildebeest, Gazelle and other antelopes can be seen and these attract Lion, Leopard, Cheetah and Hyena in large numbers.
These are the most viewable large predators in the world and bring many thousands of visitors to the park.
Site Information
Areas of Interest
For birders, Serengeti can be split into three main areas: the southern plains and kopjies, the western corridor and the central/northern woodlands. Visiting birders should aim to visit at least two of these areas, and bear in mind that many of the most interesting parts of the southern plains are not actually within the Serengeti National Park, but are instead within the Ngorongoro conservation area (NCA). The short grass plains of the south can appear rather devoid of birds, but this is the area for larks and wheatears, whilst during the rainy season many of these areas are essentially wetlands with Gull-billed Tern and White-winged Tern commonly hawking the low vegetation. During the northern winter the plains are also the place to find flocks of Caspian Plover. Also in these plains are some interesting wetlands - Lake Ndutu is a soda lake in the south, Lake Magadi a similar lake in the west, whilst Lake Masek and the Ndutu marshes (just inside the NCA) are somewhat less brackish and have slightly different species. These lakes (when full) offer a useful selection of wetland species.
Further north, the western corridor extends the National Park to a few kilometers short of Lake Victoria and holds an interesting mixture of woodland, thicket, riverine forest and smaller plains. The riverine forests are the places to find Schalow's Turaco and other interesting forest specials - as one head further west, more typically western species can be found along the Grumeti and Mbalageti rivers: Eastern Grey Plantain-eater and Black-headed Gonolek are two typical examples, hard to find elsewhere on the usual tourist circuit.
The northern woodlands (begining around Seronera in the centre of the park) offer interesting contrasts to the plains and riverine species of the south and west, harbouring typical bush species (though perhaps not in the abundance and diversity of some other Tanzanian National parks) and a few more interesting specialities such as Rufous-chested Swallow and the localised Buff-bellied race of the African Penduline-Tit. Wetlands and rivers in these areas also offer a range of interesting species (and the hippo pools at Seronera are always worth checking for Little Weaver!).
Access and Facilities
Accommodation with all facilities can be found at Seronera, Lobo and Ndutu Lodges (the latter in the neighbouring Ngorongoro Conservation Area) and there are also campsites within the park.
Contact Details
To do
External Links