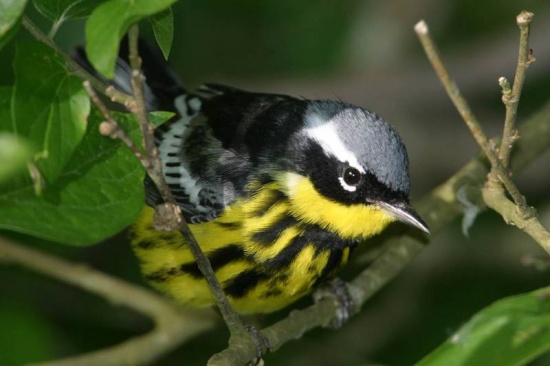 Setophaga magnolia
Dendroica magnolia
Identification
13 cm. (5 inches) Male bright yellow below with heavy black streaks, black facial patch, large white wing patch, and yellow rump. Female and immature birds similar, but duller. Broad white patches on sides of tail in all plumages.
Distribution
Canada from eastern British Columbia, southeastern corner Yukon Territory, south and central Northwest Territories east to Newfoundland and the Labrador south to northeast United States from northern Minnesota east to western Massachusetts and Connecticut south to Pennsylvania; also scattered locations in the Appalachians and Ohio. In migration found over most of the eastern United States and Canada. Winters to Panama and the West Indies. Rare but regular vagrant in the western United States. Accidental vagrant to Greenland (3 records) and Great Britain (1 record).
Taxonomy
This is a monotypic species.
Formerly placed in genus Dendroica.
Habitat
Moist coniferous spruce forests. In migration can be found in most woodlands and orchards.
Behaviour
They build a flimsy nest in conifer trees, and 3-5 eggs are laid. Both parents feed the young.
Diet includes insects and spiders, and berries when their preferred diet is unavailable.
References
Clements, JF. 2011. The Clements Checklist of Birds of the World. 6th ed., with updates to August 2011. Ithaca: Cornell Univ. Press. ISBN 978-0801445019. Spreadsheet available at http://www.birds.cornell.edu/clementschecklist/downloadable-clements-checklist
Avibase
Recommended Citation
External Links
GSearch checked for 2020 platform.