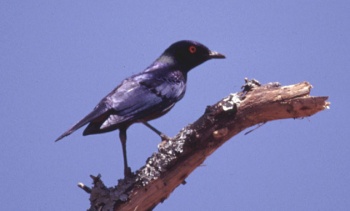 Lamprotornis shelleyi
Identification
16cm.
Glossy dark purple crown, chin, throat and upper breast
Matt black patch from lores to ear-coverts
Bronzy-green collar on nape
Dark glossy blue upperparts
Bronze-green wing with black spots
Glossy blue-green tail
Uniformely dark rufous-brown underparts
Orange-red eye
Black bill and legs
Sexes similar. Juveniles have charcoal-grey upperparts and pale chestnut-brown underparts.
Similar species
Hildebrandt's Starling is very similar but has light orange-buff lower breast and rufous belly. Superb Starling has a white breast band.
Distribution
Breeds in southern Ethiopia and northwest Somalia, also in southeast South Sudan and northern Kenya.
Non-breeding in eastern Kenya and southern Somalia.
Locally common to very common in breeding range.
Taxonomy
This is a monotypic species.
Has been considered conspecific with Hildebrandt's Starling and both have been included in a superspecies with Chestnut-bellied Starling.
Habitat
Semi-arid bushland and wooded country. Occurs from sea-level up to 1300m.
Behaviour
Only few data about diet. Probably feeds mainly on insects but takes also fruit.
Forages in small flocks in bushes and trees, less on the ground.
Outside breeding season in bigger flocks, sometimes associating with nomadic Magpie Starling.
Breeding season March to April in Ethiopia, April to June in Somalia. The nest is placed in a tree hole or cleft. Lays 3 - 6 eggs.
References
Clements, JF. 2010. The Clements Checklist of Birds of the World. 6th ed., with updates to December 2010. Ithaca: Cornell Univ. Press. ISBN 978-0801445019. Spreadsheet available at http://www.birds.cornell.edu/clementschecklist/Clements%206.5.xls/view
Del Hoyo, J, A Elliott, and D Christie, eds. 2009. Handbook of the Birds of the World. Volume 14: Bush-shrikes to Old World Sparrows. Barcelona: Lynx Edicions. ISBN 978-8496553507
Recommended Citation
External Links