Identification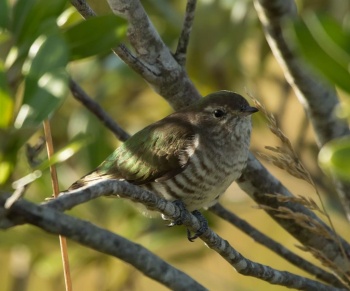 17 cm (6¾ in)
Bronze-green upperparts
Green tail
Whitish face
White underparts with greenish-bronze barring
Straight, pointed beaks
Feet have zygodactyl toe arrangement
Distribution
Indonesia, New Caledonia, Papua New Guinea, Solomon Islands, and Vanuatu, eastern and south-western Australia, Tasmania and New Zealand.
Taxonomy
Subspecies
There are 4 subspecies[1]:
Habitat
Forests, woodland and scrub, from sea-level to 1000 m.
Behaviour
Diet
Their main diet consists of insects, particularly caterpillars. They forage on the ground and in the canopy. Will join mixed species feeding flocks.
Breeding
They are a brood parasite using hosts such as thornbills, wrens, flycatchers and honeyeaters. The female lays up to 16 long, pale green to brown eggs. The eggs are laid one at a time in the nests of 16 other birds.
Vocalisation
They call with a high-pitched whistle.
References
Clements, J. F., T. S. Schulenberg, M. J. Iliff, D. Roberson, T. A. Fredericks, B. L. Sullivan, and C. L. Wood. 2017. The eBird/Clements checklist of birds of the world: v2017, with updates to August 2017. Downloaded from http://www.birds.cornell.edu/clementschecklist/download/
Handbook of the Birds of the World Alive (retrieved July 2018)
Pizzey and Knight
Recommended Citation
External Links