Pericrocotus brevirostris
Identification
19–20 cm (7½-7¾ in)
Nominate male
Glossy blue-back head down to upper breast, mantle and scapulars
Deep crimson back to uppertail-coverts
Distribution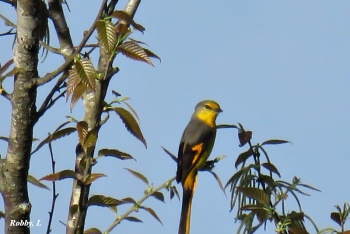 Asia: found in China, Tibet, Nepal
South Asia: India, Eastern and Western Himalayas, Bangladesh, Bhutan
Southeast Asia: Indochina, Myanmar, Laos, Vietnam, Thailand
Taxonomy
Subspecies
There are 4 subsp[1]:
South-western China (south-eastern Yunnan, Guangxi and Guangdong) to northern Vietnam
Habitat
Open deciduous and evergreen forests, secondary grown and forest edges.
Behaviour
Diet
They forage in the foliage for both larval and adult arthropods.
Usually seen in pairs and can often be found in mixed species feeding flocks.
Breeding
Their breeding season runs during March and April. They construct a neat cup formed from moss and lichen. It is placed on an outer branch of a tree about 10 m high. The clutch consists of 3 eggs.
References
Clements, J. F., T. S. Schulenberg, M. J. Iliff, D. Roberson, T. A. Fredericks, B. L. Sullivan, and C. L. Wood. 2016. The eBird/Clements checklist of birds of the world: v2016, with updates to August 2016. Downloaded from http://www.birds.cornell.edu/clementschecklist/download/
Avibase
Handbook of the Birds of the World Alive (retrieved May 2017)
Recommended Citation
External Links