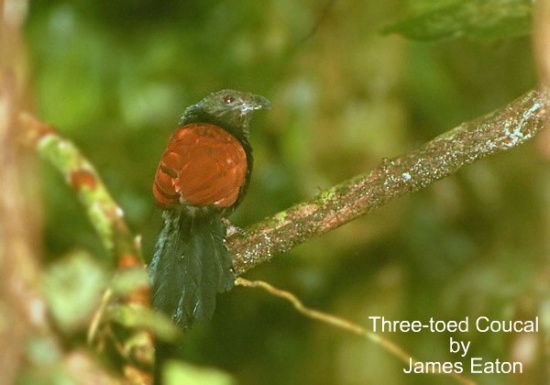 Centropus rectunguis
Identification
43cm.
Black plumage glossed purplish blue
Chestnut wings and mantle
Red eye
Black bill and legs
Sexes similar, females are slightly larger. Juveniles are barred blackish and rufous-buff above, the upper head is brown-streaked chestnut, the wings are chestnut with black bars on coverts, the tail is black with fine white bars, chin and belly are dark brown with dull white barring, some are nearly black below.
Similar species
Similar to Greater Coucal but smaller and with shorter tail.
Distribution
Southern Thailand, through Peninsular Malaysia to Borneo and Sumatra.

Taxonomy
This is a monotypic species.
Habitat
Found in closed-canopy lowland forests. Also in coastal scrub, casuarinas, long grass and dense jungle.
Occurs from lowlands up to 1700m.
Behaviour
Diet
Feeds presumably mainly on insects.
Breeding
The nest is undescribed, the eggs are white. No other information.
Movements
This is a resident species.
References
Clements, J. F., T. S. Schulenberg, M. J. Iliff, B.L. Sullivan, C. L. Wood, and D. Roberson. 2013. The eBird/Clements checklist of birds of the world: Version 6.8., with updates to August 2013. Downloaded from http://www.birds.cornell.edu/clementschecklist/download/
Del Hoyo, J, A Elliot, and J Sargatal, eds. 1997. Handbook of the Birds of the World. Volume 4: Sandgrouse to Cuckoos. Barcelona: Lynx Edicions. ISBN 978-8487334221
Recommended Citation
External Links