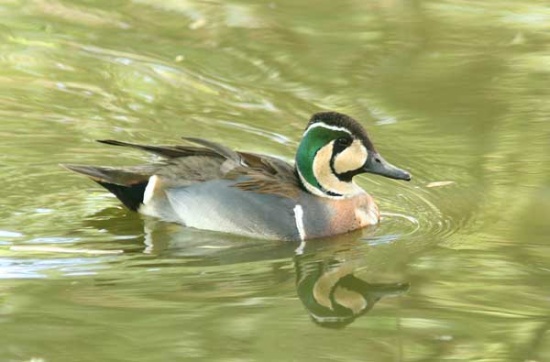 Sibirionetta formosa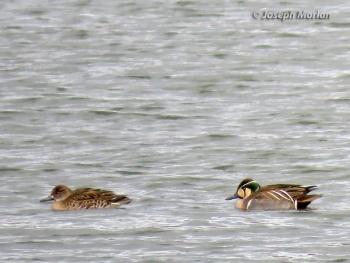 Identification
39-43 cm (15 ¼-17 in)

Female and Juvenile:
Immature
Immature males show partial white shoulder stripes and have a buffy, not white supercilium. They also lack the white trim along the lower border of the green face patch typical of fully adult males. In this species, some juvenal plumage feathers are known to persist until the following summer[11], while adults usually attain full plumage by late fall[12].
Similar Species
Female and juvenile similar to female and juvenile Green-winged Teal and Garganey, but are longer tailed with crown slightly peaked. White lore spot distinctive. Males unlikely to be confused with other species, but some hybrid ducks are known to have a Baikal Teal-like head pattern.
Distribution
Breeds in eastern Siberia from Yenisey Valley east to Kamchatka and Sea of Okhotsk coast. Winters mainly in Japan, South Korea and mainland China; rare winter visitor to Taiwan and Hong Kong. Rare vagrant to Alaska, western North America, western Europe and southern Asia.
Some occurrences outside normal range may be escaped captives.
Taxonomy
This is a monotypic species[1]. Formerly placed in genus Anas.
A genetic study by Johnson and Sorenson[9] indicated that Baikal Teal is not closely related to any other Anas species. This finding was confirmed by Gonzalez et al.[8] who recommended placing Baikal Teal in its own monotypic genus Sibirionetta, a proposal adopted in 2017 in the 58th supplement to the AOU checklist[7]. King[10] noted that Anas hybrids often show Baikal-like facial patterns, and speculated that this may be a reappearance of characters that are ancestral to the whole dabbling duck tribe.
Habitat
Breeds at pools on the tundra edge and within swampy forests.
Winters on estuaries, inshore waters, reservoirs and even castle moats.
Behaviour
Actions
Massive aerial maneuvers when approaching or leaving roost.
Breeding
They build nests in open tussock meadows near to water. Six to nine pale grey-green eggs are laid.
Diet
A dabbling duck. They eat seeds, leaves, stems and other vegetative parts of grasses, sedges, aquatic plants and crops (e.g. rice in winter); also aquatic invertebrates.
Vocalisations
Males incessantly produce deep, chuckling sound occasionally in autumn, but more often in spring. Female gives a harsh, low quack.
Movements
Migratory: they winter mainly between mid Nov to late February or early March.
References
Clements, J. F., T. S. Schulenberg, M. J. Iliff, D. Roberson, T. A. Fredericks, B. L. Sullivan, and C. L. Wood. 2018. The eBird/Clements checklist of birds of the world: v2018. Downloaded from http://www.birds.cornell.edu/clementschecklist/download/
Peterson, RT, G Mountfort and PAD Hollom. 1993. Collins Field Guide – Birds of Britain and Europe, 5th Revised edition. London: HarperCollins Publishers. ISBN 978-0002199001
Mullarney, K., Svensson, L., Zetterstrom, D. & Grant, P.J. (1999) Collins Bird Guide, Harper Collins ISBN 0 00 219728 6
BirdForum Member observations
BirdLife International 2016. Sibirionetta formosa. The IUCN Red List of Threatened Species 2016: e.T22680317A92855272. http://dx.doi.org/10.2305/IUCN.UK.2016-3.RLTS.T22680317A92855272.en. Downloaded on 22 April 2019.
Carboneras, C. & Kirwan, G.M. (2019). Baikal Teal (Sibirionetta formosa). In: del Hoyo, J., Elliott, A., Sargatal, J., Christie, D.A. & de Juana, E. (eds.). Handbook of the Birds of the World Alive. Lynx Edicions, Barcelona. (retrieved from https://www.hbw.com/node/52867 on 22 April 2019).
Chesser, R.T., Burns, K.J., Cicero,C., Dunn, J.L., Kratter, A.W., Lovette, I.J., Rasmussen, P.C., Remsen, Jr., J.V., Rising, J.D., Stotz, D.F., Winker, K. (2017) Fifty-eighth supplement to the American Ornithological Society's Check-list of North American Birds. The Auk: Ornithological Advances 134(3):751–773, https://doi.org/10.1642/AUK-17-72.1
Gonzalez, J. , H. Düttmann , and M. Wink. 2009. Phylogenetic relationships based on two mitochondrial genes and hybridization patterns in Anatidae. Journal of Zoology 279: 310–318.
Johnson K.P. & M.D. Sorenson (1999). Phylogeny and biogeography of dabbling ducks (genus Anas): a comparison of molecular and morphological evidence. Auk 116: 792- 805.
King, J.R. (1999) OrnithoNews: Taxonomy of Anas ducks: Green-winged Teal is a separate species. Birding World 12(6):344.
Madge, S. & H. Burn (1988) Waterfowl: An identification guide to the ducks geese and swans of the world. Houghton Mifflin
Palmer, R.S. (1976) Handbook of North American Birds Vol. 2: Waterfowl (Part 1). Yale Univ. Press.
Howell, Steve N. G., Ian Lewington, and Will Russell. 2014. Rare Birds of North America: Princeton Univ. Press.
Recommended Citation
External Links
GSearch checked for 2020 platform.