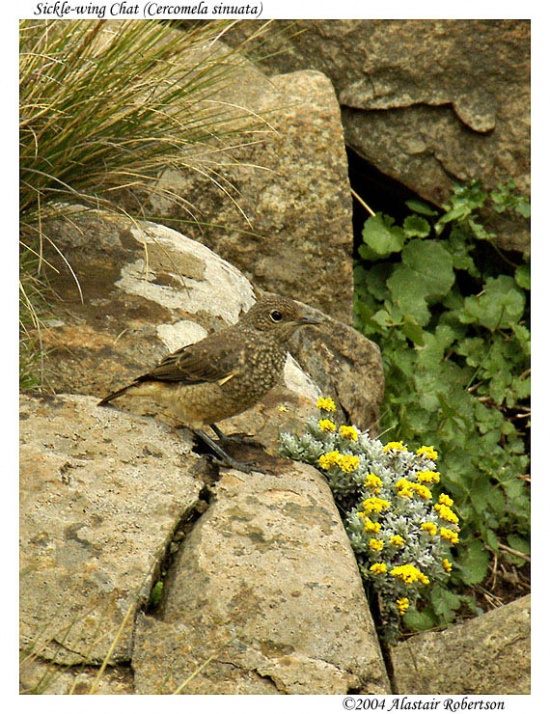 Alternative name: Sicklewing Chat
Emarginata sinuata
Cercomela sinuata
Identification
Length 15 cm, mass about 19 g. Adult: The crown, nape, mantle and back are light grey-brown, and the underparts and indistinct eyebrow are paler. The wings are dark brown and buff. The outer primary has a 1-cm-long, sickle-like tip. The rump and tail are brownish pink, except for a dark triangle at the end of the tail. The bill, legs and feet are black and the eyes dark brown. Juvenile: Brown with pale spots above and buff with darker scaling on the belly.
The Sicklewing Chat is similar to the Karoo Chat (which has a grey rump), the Tractrac Chat (white rump), and Familiar Chat (rufous rump and darker overall). The dark making on the end of the tail of the Familiar Chat forms an inverted 'T' rather than a triangle.
Distribution
Western, southern and central South Africa, Lesotho and extreme southern Namibia.
Taxonomy
There are three subspecies: E. s. sinuata is found in the southern part of the species range; E. s. ensifera from Lesotho and the adjacent KwaZulu-Natal Drakensberg is darker above with a pinker rump; and E. s. hyernephela from the northern part of the range is paler than the nominate race.
Habitat
Shrublands, fynbos, montane grasslands, and croplands.
Behaviour
Usually solitary or in pairs. Sometimes flicks its wings on landing, but not as often as the Familiar Chat. Eats mainly invertebrates taken on the ground after dropping down from its perch on a shrub or rock, or while hopping on the ground. Also eats fruit.
The nest is made on the ground next to a grass tuft, shrub or stone. Two to four eggs are laid in summer (August to March).
References
Clements, J. F., T. S. Schulenberg, M. J. Iliff, S. M. Billerman, T. A. Fredericks, B. L. Sullivan, and C. L. Wood. 2019. The eBird/Clements Checklist of Birds of the World: v2019. Downloaded from http://www.birds.cornell.edu/clementschecklist/download/
Hockey PAR, Dean WRJ & Ryan PG (eds) 2005. Robert's Birds of Southern Africa, 7th edition. John Voelcker Bird Book Fund, Cape Town, South Africa. ISBN 0620340533
Recommended Citation
External Links