This article is incomplete.
This article is missing one or more sections. You can help the BirdForum Opus by expanding it.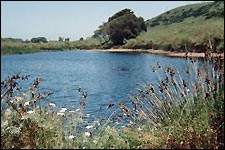 Overview
The Sidi Bou Ghaba reserve was created since 1976 in order to protect the last remaining primitive atlantic forest, the last fresh water coastal lake and more than 205 species of birds witch most of them migrate and pass over the lake before arriving at their wintering areas in the Sahel contries or african equatorial districts.
The surface hardly exceeds 650 ha however biodiversity is enormous! in fact plants reptiles and the invertebrates are at the same time diversified and typical.
Ramsar site.
Birds
Notable Species
Moreover at least 5 threatened species at regional scale nest in the site exp : North African Marsh Owl (Asio capansis tingitanus); Marbled Teal (Marmaronetta angustirostris); Crested Coot (Fulica cristata); Baillon's Crake ( Porza pusilla) and Western Swamphen (Porphyrio porphyrio).
Check-list
Birds you can see here include:
To do
Other Wildlife
To do
Site Information
History and Use
To do
Areas of Interest
To do
Access and Facilities
40 km north of Rabat
Contact Details
To do
External Links
Content and images originally posted by jynxtorquilla
Reviews
Steve's review Thank you for posting this location, very kind of you to take the time. If only others would do the same !!!