Empidornis semipartitus
Identification
18 cm (7 in)
Pale bluish-grey head and upperparts
Brownish-orange underparts

Juvenile:
Black-bordered tawny spots on upperparts
Mottled buff and black on throat and breast
Distribution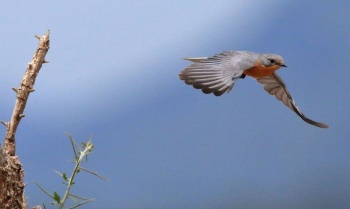 Eastern Africa. Southwestern and southern Sudan, South Sudan, western Ethiopia, eastern Uganda, western Kenya, and northern Tanzania.
Taxonomy
This is a monotypic species[1].
Placed in genus Melaenornis by Clements.
Habitat
Acacia grassland, semi-arid bushland with large scattered trees.
Behaviour
Diet
Their main diet consists mostly of ground insects, such as ants and locusts. They sit on a perch and pounce on them.
They forage singly and in pairs.
Breeding
They are monogamous and a solitary nester.
References
Clements, J. F., T. S. Schulenberg, M. J. Iliff, D. Roberson, T. A. Fredericks, B. L. Sullivan, and C. L. Wood. 2017. The eBird/Clements checklist of birds of the world: v2017, with updates to August 2017. Downloaded from http://www.birds.cornell.edu/clementschecklist/download/
Handbook of the Birds of the World Alive (retrieved Jan 2018)
Recommended Citation
External Links