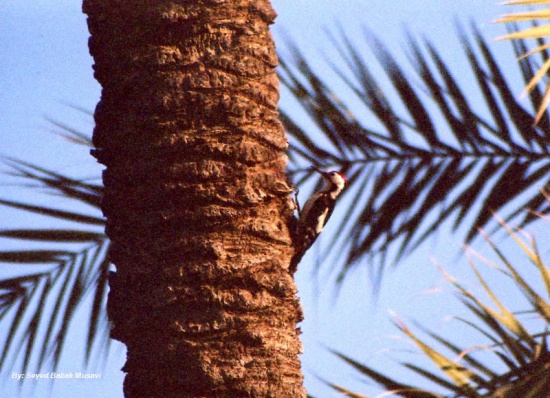 Alternative name: Sind Pied Woodpecker
Dendrocopos assimilis
Identification
20-22 cm. A crispy pied woodpecker.
Male
Bright red crown
Broad white forehead
No black boarder around crown
Black upperparts with large white area on inner wing-coverts, flight-feathers broadly barred white
Black uppertail, outer feathers with broad white bars (sometimes absent or much reduced)
White underparts, pink in centre of lower breast and belly
Red untertail-coverts
Female
Black crown and broad white forehead
Rest of plumage like male
Juvenile
Duller than adults
Browner black areas
White areas buff-tinged
Pink undertail-coverts
Red patch in crown centre
Similar species
Separated from similar White-winged Woodpecker by alck of black bar behind cheek. Has more white on scapulars and broader wite barring on wings then Himalayan Woodpecker and Great Spotted Woodpecker. Smaller than similar Syrian Woodpecker. Note also red crown, black stripe from side of neck to mantle and shorter black stripe on breast.
Distribution
Southeast Iran, Pakistan (Sind, Punjab and Baluchistan) and adjacent northwest India (Punjab).
Widespread and locally common.
Taxonomy
This is a monotypic species.
Hybrids with Syrian Woodpecker occur rarely.
Habitat
Found in thorn-scrub, riverine forest and desert wadis with acacias. Also in roadside trees, irrigated plantations, palm stands and gardens.
Occurs mainly in lowlands but up to 1600 m in Salt Range in Pakistan and maybe higher in Baluchistan.
Behaviour
Diet
Feeds on ants and larvae of wood-boring beetles.
Forages singly on trunks, branches and twigs of trees, bushes or fence posts. Also often on the ground and on fallen trees. Hammers and probes like other woodpeckers.
Breeding
Breeding season from March to April. The nest hole is excavated by the male and the female in a trunk or a dead branch 1 to 4 m from the ground. Lays 3 to 4 eggs.
Movements
A resident species. A 19th-century record from northwest India indicates a long-distance dispersal.
Reference
Clements, J. F., T. S. Schulenberg, M. J. Iliff, D. Roberson, T. A. Fredericks, B. L. Sullivan, and C. L. Wood. 2014. The eBird/Clements checklist of birds of the world: Version 6.9., with updates to August 2014. Downloaded from http://www.birds.cornell.edu/clementschecklist/download/
Gill, F and D Donsker (Eds). 2015. IOC World Bird Names (version 5.2). Available at http://www.worldbirdnames.org/.
Handbook of the Birds of the World Alive (retrieved May 2015)
Rasmussen, PC and JC Anderton. 2005. Birds of South Asia: The Ripley Guide. Barcelona: Lynx Edicions. ISBN 978-8487334672
Recommended Citation
External Links