Alternative name: Red-bellied Nuthatch
Sitta canadensis
Identification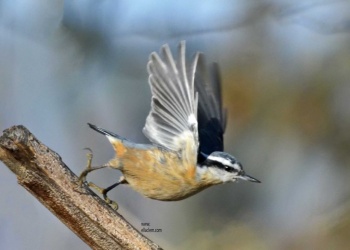 Black crown and nape
White lores , the supercilium, and the sides of the mantle
Black eyestripe broadens backward to the sides of the mantle
White chin, cheeks, ear coverts, and sides of the upper neck
Grey blue upperparts, lesser and median coverts, and central tail feathers
Outer 4 tail feathers have white centres; outer 3 have grey-blue tips
Dark grey brown flight feathers
Cinnamon lower neck, breast, flanks, belly, vent, and undertail coverts
Black upper mandible, pale grey lower
Dusky legs and feet
Females
Similar to males, but the crown and nape are dark grey, not black
Eyestripe is variable but usually paler than in males
Underparts are paler, not as richly coloured as males
Distribution
Breeds across Canada from southeastern Alaska, Manitoba, and Newfoundland south to southern California, Arizona, Great Lakes region, and northern New England, and south in Appalachians to North Carolina.
Winters in breeding range and irregularly south to Gulf Coast and northern Florida.
Fairly common to abundant.
Taxonomy
This is a monotypic species.
Habitat
Coniferous forests; more widespread during migration and winter.
Behaviour
Diet
Nuthatches hoard excess food and will transport seed from a tree heavily laden with mature cones to their distant larders. In years of bad harvest, they migrate in large numbers to more southerly forests. They also feed on bark insects, maneuvering with agility around the tips of small, outer branches or in treetops.
They also feed on bark insects.
Vocalisation
A tinny yank-yank, higher pitched and more nasal than the call of the White-breasted Nuthatch. Some describe it as sounding similar to a toy tin horn.
References
Clements, J. F., T. S. Schulenberg, M. J. Iliff, D. Roberson, T. A. Fredericks, B. L. Sullivan, and C. L. Wood. 2018. The eBird/Clements checklist of birds of the world: v2018. Downloaded from http://www.birds.cornell.edu/clementschecklist/download/
BF Member observations
Recommended Citation
External Links