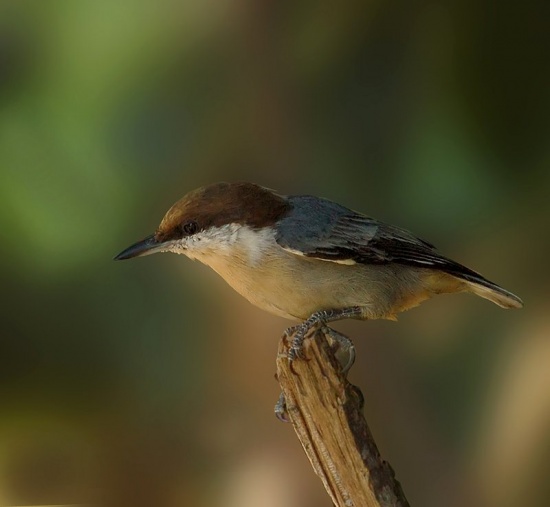 Sitta pusilla
Identification
10-11 cm
White underparts
Brown cap
Narrow black eyeline
Buff white cheeks, chin, and belly
Blue-grey back, nape, wings, and rump
White spot on nape of neck
Sharp black bill
Similar Species
Similar to Pygmy Nuthatch, which would be very tricky to distinguish, except that the two species never meet, being very sedentary and separated by a roughly 750 km gap in Texas where neither occurs.
Distribution
Southeastern United States and the Bahamas, on Grand Bahama. Found from south-eastern Oklahoma and eastern Texas through central Arkansas, Tennessee, and the Gulf Coast states, to southern Maryland and Delaware, Virginia, then south to southern Florida.
Taxonomy
Closely related to Pygmy Nuthatch, with which it has sometimes been considered conspecific in the past[2].
Subspecies
There are two subspecies[1]:
Pine forests of south-eastern US
Habitat
Mixed forests, primarily pine, and gardens.
Behaviour
Diet
The diet includes cockroaches, beetles, and spiders in summer, and pine seeds in winter. Often visits garden feeders.
Breeding
They nest in a tree cavity; the eggs are incubated for 14 days. The young fledge 18 days later.
References
Clements, JF. 2009. The Clements Checklist of Birds of the World. 6th ed., with updates to December 2009. Ithaca: Cornell Univ. Press. ISBN 978-0801445019.
Del Hoyo, J, A Elliott, and D Christie, eds. 2008. Handbook of the Birds of the World. Volume 13: Penduline-tits to Shrikes. Barcelona: Lynx Edicions. ISBN 978-8496553453
Audubon
Wikipedia
Recommended Citation
External Links