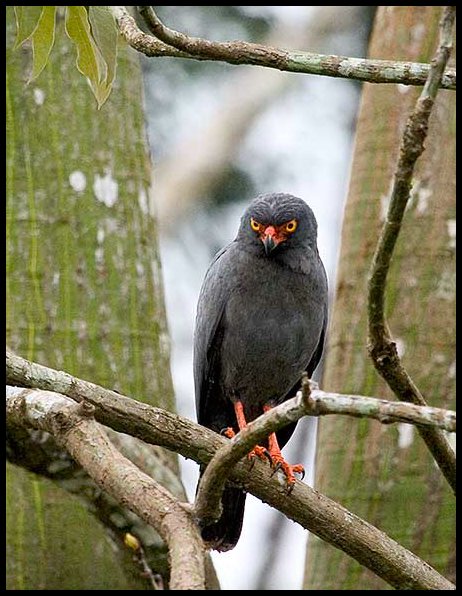 Buteogallus schistaceus
Identification
45-48 cm (17¼-19 in)
Medium slate-grey in colour, contrasting white horizontal banding on its tail feathers, white breast with vertical black markings. It has a large orange cere at the base of its beak, and large yellow eyes.
Similar Species
Slender-billed Kite is much smaller with more delicate bill, pale eyes and no white in the tail. Snail Kite has white base to tail, not a white tail-band. Crane Hawk has dark cere, longer legs, more slender body. Great Black Hawk is much larger with yellow cere and legs.
Distribution
Brazil, Bolivia, Peru, Ecuador, Colombia, Venezuela, and French Guiana.
Taxonomy
Formerly placed in genus Leucopternis.
Subspecies
Habitat
Swamps.
Behaviour
A "sit-and-wait" predator easily overlooked when concealed on a perch within the forest.
Diet
Includes frogs, crabs, snakes, and small mammals.
Breeding
Unknown
Vocalisation
A descending piercing whistle.
Movements
Resident
References
Clements, J. F., T. S. Schulenberg, M. J. Iliff, D. Roberson, T. A. Fredericks, B. L. Sullivan, and C. L. Wood. 2018. The eBird/Clements checklist of birds of the world: v2018. Downloaded from http://www.birds.cornell.edu/clementschecklist/download/
SACC proposal] for taxonomy including this species
Amaral, F.S.R., Miller, M.J., Silveira, L.F., Bermingham, E. & Wajntal, A. (2006) Polyphyly of the hawk genera Leucopternis and Buteogallus (Aves, Accipitridae): multiple habitat shifts during the Neotropical buteonine diversification. BMC Evolutionary Biology 6(10): 1–21.
Bierregaard, R.O., Jr, Boesman, P. & Marks, J.S. (2019). Slate-colored Hawk (Buteogallus schistaceus). In: del Hoyo, J., Elliott, A., Sargatal, J., Christie, D.A. & de Juana, E. (eds.). Handbook of the Birds of the World Alive. Lynx Edicions, Barcelona. (retrieved from https://www.hbw.com/node/53101 on 22 July 2019).
Global Raptor Information Network. 2019. Species account: Slate-colored Hawk Buteogallus schistaceus. Downloaded from http://www.globalraptors.org on 22 Jul. 2019
Slate-colored Hawk (Buteogallus schistaceus), In Neotropical Birds Online (T. S. Schulenberg, Editor). Cornell Lab of Ornithology, Ithaca, NY, USA. retrieved from Neotropical Birds Online: https://neotropical.birds.cornell.edu/Species-Account/nb/species/slchaw2
Recommended Citation
External Links