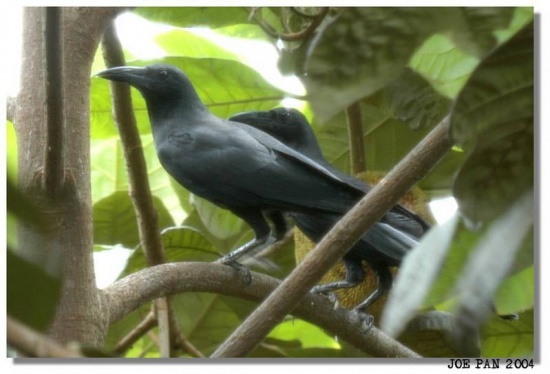 Alternative name: Little Crow
Corvus enca
Includes: Violet Crow
Identification
40 - 47cm. A medium-sized, slim crow.
Plumage black, glossed purple-violet, dull matet slate to black on underparts
Slightly peaked forecrown
Medium-length, slightly graduated tail
Broad blunt wings and short square-tipped tail in flight
Black, relatively long, dagger-like bill. Straight along culmen except for gentle downward curves distally.
Dark brown iris
Sexes similar. Juveniles with grey iris and less glossy plumage.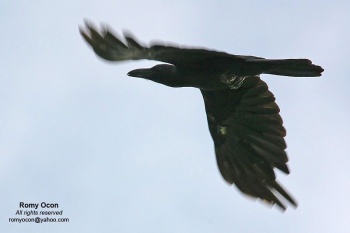 Similar species
Very similar to Large-billed Crow but slimmer build, straighter culmen, less peaked forecrown and less hackled throat. In flight with shorter tail, shorter hand with less fingered primaries.
Distribution
Found in peninsular Malaysia, Borneo, Sumatra, Java, Sulawesi and other islands of the Moluccas (Indonesia) and the Philippines. Elusive and uncommon in most of its range.
Taxonomy
Polytypic. Consists of eight subspecies:
C. e. celebensis on Sulawesi, adjacent islands, Banggai and Talaud
C. e. enca on Java, Bali and Mentawai Islands
C. e. mangoli on Sula Islands
C. e. sierramadrensis in north and central Luzon
C. e. pusillus on Mindoro, Calamian Group and Palawan
C. e. samarensis on Samar and Mindanao
The taxonomy of this species is not yet completely solved and a future split in two or more species seems possible.
Banggai Crow and Violet Crow were formerly treated as subspecies of this species.
Habitat
Moist lowland primary and well-grown secondary forest. Occurs mainly below 600m. Prefers extensive forest and usually encountered near watercourses, clearings or forest edge.
Behaviour
Feeds mainly on fruit. Takes also invertebrates, small lizards, sometimes roadkills.
Usually seen in pairs or family parties.
Breeding not well known. Eggs are recorded in June and July in Borneo. The nest is a bulky mass of twigs, placed high in a large tree. Lays 2 eggs.
Generally a resident species.
References
Clements, J. F., T. S. Schulenberg, M. J. Iliff, S. M. Billerman, T. A. Fredericks, B. L. Sullivan, and C. L. Wood. 2019. The eBird/Clements Checklist of Birds of the World: v2019. Downloaded from http://www.birds.cornell.edu/clementschecklist/download/
Del Hoyo, J, A Elliott, and D Christie, eds. 2009. Handbook of the Birds of the World. Volume 14: Bush-shrikes to Old World Sparrows. Barcelona: Lynx Edicions. ISBN 978-8496553507
Birdforum thread discussing the large number of potential future splits of this species (posts 11-13)
Recommended Citation
External Links