Alternative names: Common Slender-billed Weaver; Little Weaver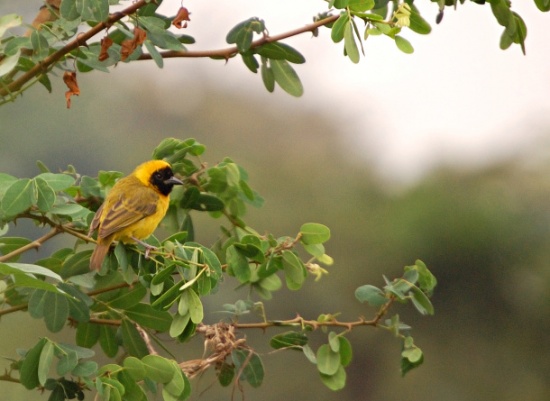 Ploceus pelzelni
Identification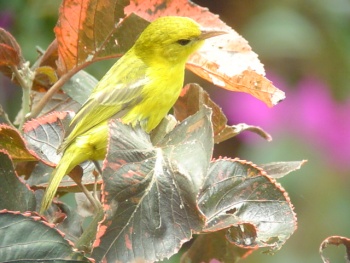 11 cm. A very small weaver.
Black forehead, face, chin and throat
Golden-yellow hindcrown and back
Golden-olive mantle and back with faint central streaks on feathers
Olive-yellow rump
Olive-green tal
Olive-brown upperwing
Golden-yellow side of breast, flanks, belly, thighs and undertail-coverts
Slender black bill
monacha with a shorter, less slender bill
Females without black on head but with yellowish-green forehead to nape, cheek and ear-coverts and clear yellow supercilium. Juveniles like females but browner above and duller yellow below.
Distribution
Western, Central and Eastern Africa.
Locally common, very common in parts of Eastern Africa.
Taxonomy
Two subspecies recognized:
The proposed subspecies tuta (Tanzania) is normally not recognized.
Habitat
Found in papyrus swamp and other tall vegetation near lakes or in wetlands. Forages also in trees, bushes, rice fields and mangroves, even in gardens.
Usually below 1700 m, up to 2350 m in eastern DR Congo.
Behaviour
Usually seen singly, in pairs or in flocks.
Diet
Feeds on insects. Forages in trees, gleaning and prying with great agility.
Breeding
Breeding differs through range. A monogamous species, nesting in colonies with usually fewer than 20 nests, rarely more. Nests sometimes alongside Black-headed Weaver or at edges of mixed colonies of Village Weaver and Vieillot's Black Weaver. The nest is ball-shaped and made of strips of grass or papyrus leaf. It's attached to papyrus heads, palm fronds or a thorny branch. Lays 2-3 eggs. Sometimes parasitized by Diederik Cuckoo.
Old nests of this species are used by Dusky-blue Flycatchers.
Movements
This is a resident species.
References
Clements, J. F., T. S. Schulenberg, M. J. Iliff, B.L. Sullivan, C. L. Wood, and D. Roberson. 2013. The eBird/Clements checklist of birds of the world: Version 6.8., with updates to August 2013. Downloaded from http://www.birds.cornell.edu/clementschecklist/download/
Handbook of the Birds of the World Alive (retrieved July 2014)
Recommended Citation
External Links