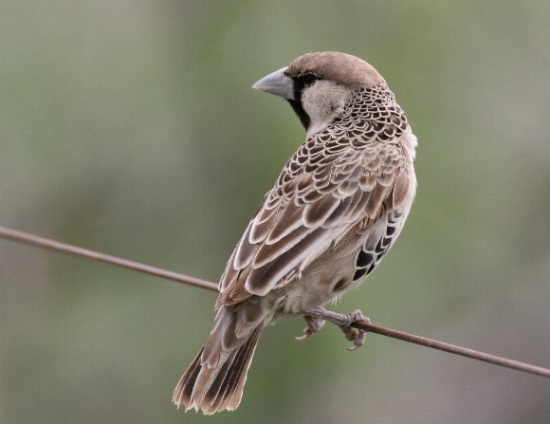 Alternative name: Social Weaver
Philetairus socius
Identification
Length 14 cm, mass 24-32 g.
Adult: Lores, base of bill and throat patch black; flanks with black scales; back with brown scales; bill pale, eyes brown.
Distribution
South Africa to Namibia and Botswana.
Taxonomy
This species is either monotypic2 or has up to four1 recognized subspecies: socius, geminus, lepidus and xericus.
Habitat
Open savanna grassland containing large trees.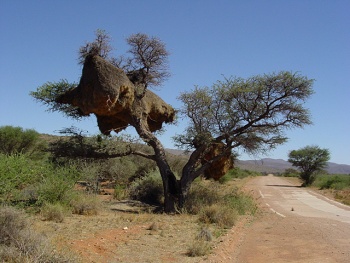 Behaviour
Their diet includes insects, particularly the harvester termites, and seeds.
Breeding
Sociable weavers are unlike most other birds due to their lifestyle and nest building: they weave one nest for their entire colony as well as for future residents. Different materials are used for different purposes. Large twigs form the roof of the nest, dry grasses create the separate chambers, and sharp spikes of straw protect the entrance tunnels from predators. Nesting chambers are lined from top to bottom with soft plant material, fur, cotton, and fluff. There are entrance tunnels for the different chambers and these tunnels can be up to 25 cm long. The nest chambers are about 10cm in diameter. There can be between 5 - 100 nest chambers per nest, providing home for 10 - 400 birds.
References
Clements JF. 2007. The Clements Checklist of Birds of the World. 6th ed., with updates to October 2007. Cornell University Press. ISBN 9780801445019
Hockey PAR, Dean WRJ & Ryan PG (eds) 2005. Robert's Birds of Southern Africa, 7th edition. John Voelcker Bird Book Fund, Cape Town, South Africa. ISBN 0620340533
External Links