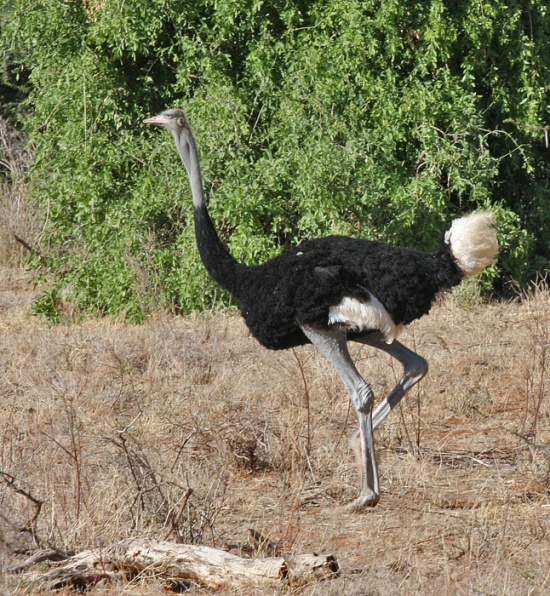 Struthio molybdophanes
Identification
An unmistakable, terrestrial and flightless species.
Males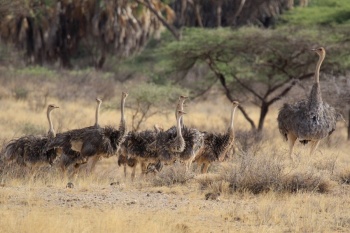 Larger than females
Blue-grey bare skin of most of head and neck, also thighs
Black lower neck
Black body and wing-coverts
White remiges and tail, sometimes brown stained with soil
Pale grey-brown eye
Bare areas on thighs and neck duller in non-breeding
Female
Similar to male but greyer and duller
Light blue-grey iris
Immatures and juveniles
Distribution
Found in southern Ethiopia, Somalia and adjacent northeastern Kenya.
Taxonomy
This is a monotypic species.
Formerly considered conspecific with Common Ostrich.
Habitat
More often in bush and scrub than Common Ostrich.
Behaviour
Diet
Feeds on grasses, seeds and leaves. In dry areas succulent plants are also taken. Takes sometimes insects and small vertebrates.
Forages in groups, browsing close to ground.
Breeding
The nest is a shallow scrape in the ground. Usually the major hen lays 5 to 11 eggs and 2 to 5 minor hens lay 2 to 6 eggs each in the common nest. The young form large groups which are accompanied by one or more adults for the first 9 months.
Vocalisation
Mainly silent but makes occasional hissing sounds.
Male has a deep booming during the breeding season.
References
Clements, J. F., T. S. Schulenberg, M. J. Iliff, D. Roberson, T. A. Fredericks, B. L. Sullivan, and C. L. Wood. 2015. The eBird/Clements checklist of birds of the world: v2015, with updates to August 2015. Downloaded from http://www.birds.cornell.edu/clementschecklist/download/
Del Hoyo, J, A Elliot, and J Sargatal, eds. 1992. Handbook of the Birds of the World. Volume 1: Ostrich to Ducks. Barcelona: Lynx Edicions. ISBN 978-8487334108
Birdforum thread discussing the taxonomy and possible splits of Ostrich
Recommended Citation
External Links