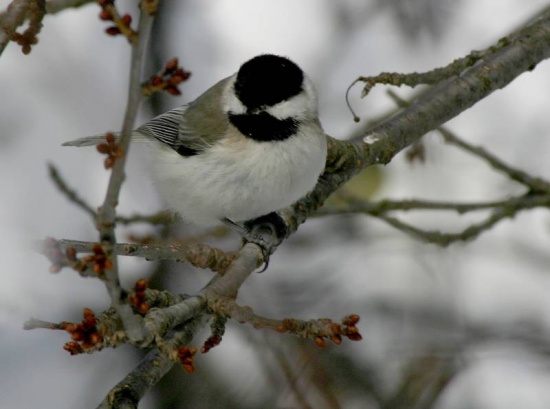 Poecile lugubris
Identification
Brown upperparts
Pink-brown underparts, becoming greyer with age
Dark brown cap and bib

Sexes similar
Juveniles duller
Distribution
Southeast Europe including mainland Greece, resident on some Greek islands (Crete and Lesvos) and southwest Asia.

Taxonomy
Traditionally placed in Parus, mtDNA cytochrome b sequence data suggests that that genus should be split, as already adopted by the American Ornithologists' Union for example. This species is part of the chickadee group which would then make up the genus Poecile. In Poecile, this species forms part of a group of apparently rather basal species, the relationships of which are ill-definied. They also include the Varied Tit and probably the White-fronted Tit (which were sometimes separated in Sittiparus), and possibly the White-browed Tit.
Caspian Tit was formerly included in this species.
Subspecies[1]
In southern Iran (mountains of Kerman region) - formerly included in Caspian Tit
Habitat
Scattered bushes, especially on rocky hillsides.
Behaviour
Breeding
It nests in holes in decayed trees, lined with fur, wood chips, or hair. The clutch consists of 5-7 red-spotted white eggs.
Diet
The diet inclues seeds, insects and caterpillars.
Vocalisation
Call: zsit, and chev chev.
References
Clements, J. F., T. S. Schulenberg, M. J. Iliff, D. Roberson, T. A. Fredericks, B. L. Sullivan, and C. L. Wood. 2015. The eBird/Clements checklist of birds of the world: v2015, with updates to August 2015. Downloaded from http://www.birds.cornell.edu/clementschecklist/download/
Gill, F and D Donsker (Eds). 2013. IOC World Bird Names (version 3.5). Available at http://www.worldbirdnames.org/.
Avibase
Wikipedia
Recommended Citation
External Links