This article is incomplete.
This article is missing one or more sections. You can help the BirdForum Opus by expanding it.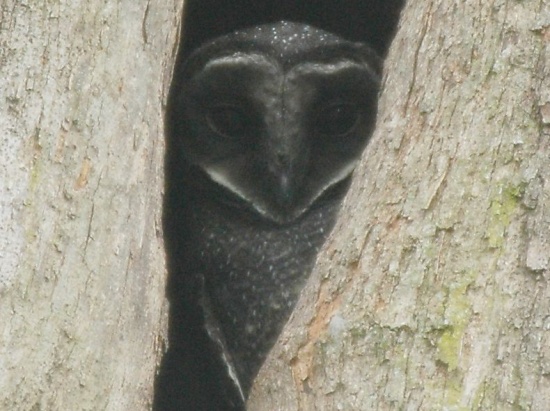 Tyto tenebricosa
Includes: Greater Sooty Owl; Lesser Sooty Owl
Identification
L. 31-38 cm
Sooty black or grey-brown upperparts
Fine silvery white spots on head and wings
Large round facial disc
Silvery white shading to black around eyes
Heavily edged black face
Silvery white underparts
Dark grey or sooty black chevrons, particularly on breast
Very short tail
Very large black eyes
Pale horn bill
Pale grey feet with black talons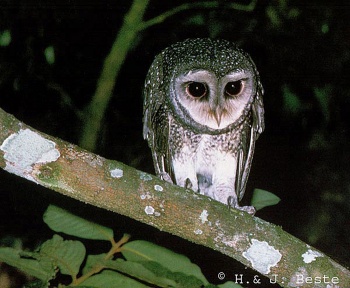 Sexes look similar but the female is usually slightly larger.
Distribution
New Guinea and coastal eastern and northeastern Australia.
Taxonomy
Three subspecies accepted:
The latter was long considered to be a full species, Lesser Sooty Owl, the other two subspecies were known as Greater Sooty Owl. These two forms have an unusual "leapfrog" distribution in that the Lesser is surrounded by Greater Sooty Owl both to the north in New Guinea (subspecies arfaki) and to the south in mainland Australia (subspecies tenebricosa); other species that show leapfrog distributions are Australian Logrunner/Chowchilla in the same area and Grey Trembler/Brown Trembler in the Caribbean. A DNA analysis of the three Sooty Owl populations found small differences between the three populations (0.6 - 0.8 %), in spite of especially size differences. This lack of DNA sequence difference has been seen as an argument against keeping the two Sooty Owls as different species. Reference on the DNA analysis: J. A. Norman, L. Christidis, L. Joseph, B. Slikas & D. Alpers (2002) Unravelling a biogeographical knot: origin of the 'leapfrog' distribution pattern of Australo-Papuan sooty owls (Strigiformes) and logrunners (Passeriformes). Proceedings of the Royal Society of London Series B. Biological Sciences. 269, 2127-2133. (Full text available online).
Habitat
multipunctata is found in rainforests.
Behaviour
Foraging & Diet
A strictly nocturnal bird. Hunts in clearings and near roads, but also inside forest.
Diet includes small mammals, but also insects and some birds.
Breeding
The nest is usually a large hollow in the trunk or a main limb of a living tree, often Rose Gum. The female may occupy the hollow for many weeks before laying, going out briefly only once or twice each night. 1-2 eggs are laid. Incubation is 40-42 days and the young have downs of sooty grey. Fledging is at about 3 months.
External Links