Stercorarius maccormicki
Identification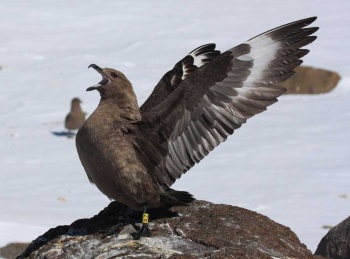 50–55 cm (19¾-21¾ in)
There are Light, Intermediate and Dark Phase morphs
Grey-brown upperparts
White or straw-brown head and underparts
Distribution
Purported to be the most southern of all birds. Reported as far south as the South Pole. Migrate northwards during the southern winter after breeding, spending most time at sea - visitor to Australia, probably on passage. Sighted as far north as Greenland & the Aleutian Islands.
Taxonomy
This is a monotypic species[1].
Has been placed in the genus Catharacta with the other large skuas (Sibley & Monroe, 1993; Clements, 2000).
Habitat
Coasts.
Behaviour
Breeding
The nests are shallow depressions on the ground may be on rocky outcrops, cliffs or valley floors. The clutch consists of 2 mottled eggs which are usually laid in November and December. They are incubated for 24 to 34 days.
Diet
The diet includes fish, krill, squid, carrion, crustaceans, molluscs and the eggs and chicks of seabirds. They will follow ships and forage on any jetsam. At sea will chase and harass smaller birds, forcing them to drop their prey or regurgitate, known as kleptoparasitism. Known as the "Raptor of the South".
Fiercely predatory. Highly territorial and will defend their territories vigorously against all intruders. Will fly straight at head.
References
Clements, J. F., T. S. Schulenberg, M. J. Iliff, D. Roberson, T. A. Fredericks, B. L. Sullivan, and C. L. Wood. 2018. The eBird/Clements checklist of birds of the world: v2018. Downloaded from http://www.birds.cornell.edu/clementschecklist/download/
AvianWeb
The Slater Field Guide to Australian Birds
Arctic Connection.Com - Wildlife of Antarctica
Australian Government - Australian Antarctic Division
Recommended Citation
External Links
Australian Antarctic Division - http://www.aad.gov.au/default.asp?casid=1643
Wildlife of Antarctica - http://www.antarcticconnection.com/antarctic/wildlife/birds/skuas.shtml