Alternative name: Fasciated Snake Eagle
Circaetus fasciolatus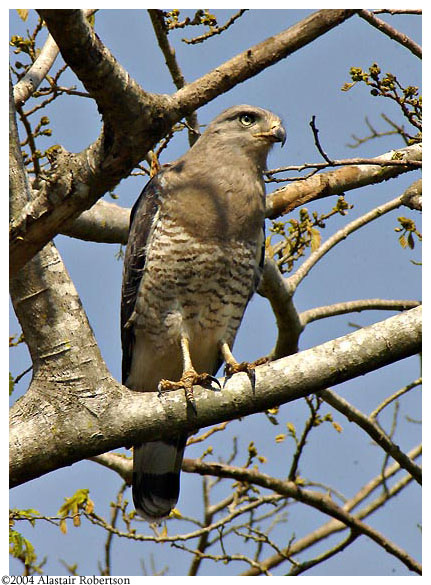 Identification
Length 58 cm, mass about 1 kg. Sexes alike; upper-parts grey-brown and chest brown; belly barred; tail with three dark and two white tail bars.
Similar species
Western Banded Snake Eagle is darker and greyer, has a single broad white tail bar, and the barring on the belly is less prominent.
Distribution
Sub-Saharan Africa. Very limited range in coastal East Africa from southern Somalia south to KwaZulu-Natal, South Africa. Southern breeders may move northwards during the southern summer.
Taxonomy
Monotypic.
Habitat
Dense coastal woodland and forest, also cultivated land with scattered tall trees. Ranges inland along large rivers.
Status
Its near-threatened status is mainly due to the destruction of its natural habitat as fewer and fewer continuous stretches of coastal forest remain.
Behaviour
A secretive, reptile-hunting Snake Eagle of coastal forests. It is highly vocal but tends to stick to a single hidden perch in the high canopy. It is rare to see this species circling over the forest and this makes it a difficult bird to spot.
References
Hockey, PAR, WRJ Dean, and PG Ryan, eds. 2005. Roberts' Birds of Southern Africa. 7th ed. Cape Town: John Voelcker Bird Book Fund. ISBN 978-0620340533
External Links