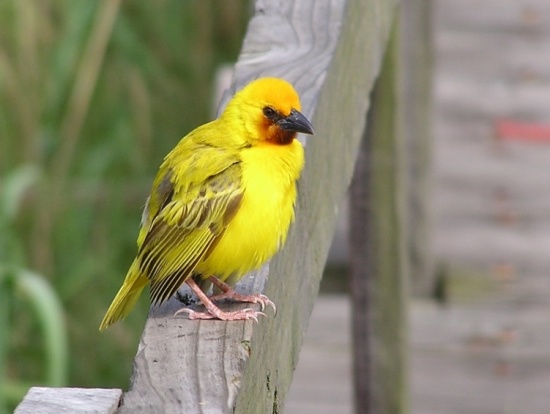 Ploceus xanthopterus
Identification
15 cm (6 in)
Breeding adult male: Bright yellow with a chestnut face, and throat; chestnut does not extend onto the forecrown (as it does in Northern Brown-throated Weaver, Rueppell's Weaver and Cape Weaver). The eyes are dull reddish brown.
Distribution
Western Africa: occurs only in Angola
Eastern Africa: Tanzania, Zambia, Mozambique, Malawi
Southern Africa: Namibia, Botswana, Zimbabwe, South Africa, KwaZulu-Natal
Taxonomy
Subspecies
Ploceus xanthopterus has three subspecies:[1]
Habitat
Forest and scrub; breeds in reedbeds.
Behaviour
Diet
Their diet consists mostly of seeds, berries, flowers and insects.
Vocalisation
A soft zweek, zweek and a swizzling song.
Breeding
Polygynous and territorial. Males may breed singly or in colonies of up to 300 nests. Builds a rather untidy nest over water in reedbeds; the nest has no entrance tube. Two to three eggs are incubated for 14-17 days by the female. The nestling period is 14-19 days; young are fed by the female only.
References
Clements, J. F., T. S. Schulenberg, M. J. Iliff, D. Roberson, T. A. Fredericks, B. L. Sullivan, and C. L. Wood. 2018. The eBird/Clements checklist of birds of the world: v2018. Downloaded from http://www.birds.cornell.edu/clementschecklist/download/
Hockey, PAR, WRJ Dean, and PG Ryan, eds. 2005. Roberts' Birds of Southern Africa. 7th ed. Cape Town: John Voelcker Bird Book Fund. ISBN 978-0620340533
Sinclair, I and P Ryan. 2003. Birds of Africa South of the Sahara. Princeton: Princeton Univ. Press. ISBN 978-0691118154
Avibase
Handbook of the Birds of the World Alive (retrieved February 2019)
Recommended Citation
External Links