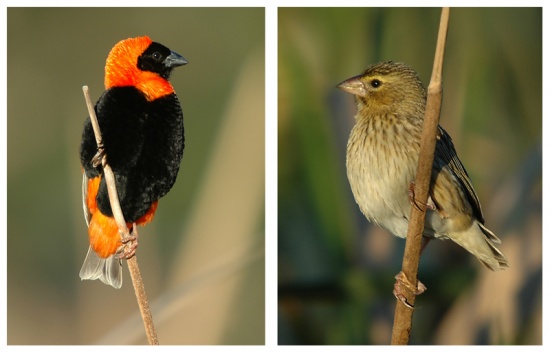 Alternative name: Red Bishop
Euplectes orix
Identification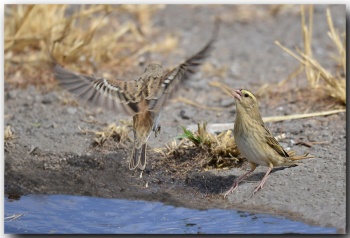 13-15 cm (5-6 in)
Breeding Male

Orange to scarlet head, back and undertail coverts
Black facial mask
Black belly
Distribution
Found in East and South Africa in eastern parts of the Democratic Republic of Congo to Uganda, Rwanda, Burundi, southern Kenya, Tanzania, Angola, Zambia, Malawi, Namibia, Zimbabwe, Mozambique, Botswana, South Africa, Swaziland and Lesotho.
Introduced populations exist, eg. in Andalucia (Spain).
Taxonomy
This is a monotypic species.
Several subspecies have been described (eg sundevalli or nigrifrons), however this species varies clinally in size.
Habitat
Open country, tall grassland, near water.
Behaviour
Breeding
Its nest is spherical and woven, and is situated in tall grass. It lays 2 - 4 eggs.
Diet
It feeds on seed, grain and some insects.
Vocalisation
Call: a thin tsip
References
Clements, J. F., T. S. Schulenberg, M. J. Iliff, D. Roberson, T. A. Fredericks, B. L. Sullivan, and C. L. Wood. 2017. The eBird/Clements checklist of birds of the world: v2017, with updates to August 2017. Downloaded from http://www.birds.cornell.edu/clementschecklist/download/
Handbook of the Birds of the World Alive (retrieved December 2015)
Recommended Citation
External Links