Tchagra tchagra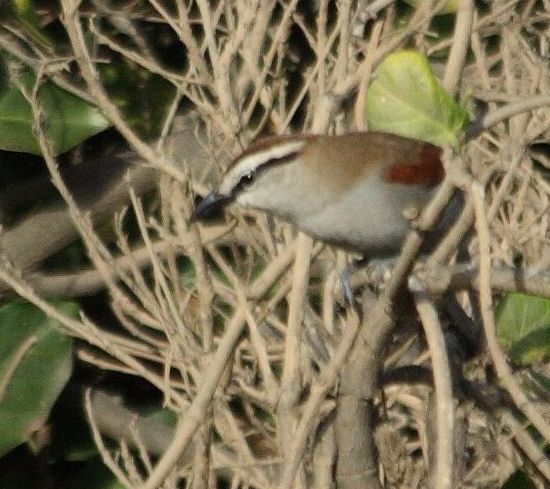 Identification
Length 20-22 cm, mass 42-54 g. Large bill.
Adult: Has a brown crown, grey to white eyebrow and black eyestripe. The back is olive brown and the rump is olive grey. The tail is black and brown, tipped white, and the wings mainly rufous and olive-brown. The underparts are grey except for the the chin and throat, which are greyish white.
Juvenile: Similar to the adult, but more olive above. The eyebrows are more buffy and the tail is tipped buff.
Distribution
Southern and eastern South Africa and western Swaziland.
Taxonomy
There are three subspecies based on differences in bill length, shade of rufous on upperparts and shade of grey on underparts:
T. t. tchagra from southern South Africa east of Uitenhage is described above;
T. t. caffrariae from south-eastern South Africa (Uitenhage to Port Edward) has a smaller bill, more rufous crown, more buffy eyebrow and paler underparts than the nominate race;
T. t. natalensis from KwaZulu-Natal, Swaziland and Mpumalanga has a smaller bill and is paler than T. t. caffrariae, with a redder crown.
Habitat
Coastal bush, forest margins, dense fynbos, thickets and dense Acacia stands near watercourses.
Behaviour
Forages singley or in pairs, often on the ground, for invertebrates, fruit, seeds and molluscs. Generally stays close to, or in, dense cover. Flies with rapid wingbeats alternating with glides.
Breeding: Monogamous and territorial. The nest is a cup of plant material well-concealed in a bush, usually less than a metre above the ground. Two to three eggs are laid August to December. Parasitised by the Jacobin Cuckoo.
External Links