Ploceus ocularis
Identification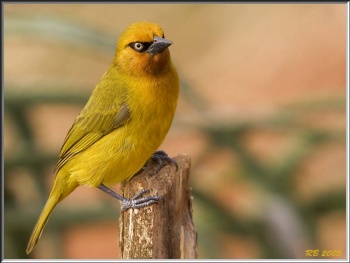 Length 15-16 cm, mass 30 g. Sexually dimorphic plumage; no seasonal variation.
Brown forehead and crown with black line (spectacle) througth the eye. Upper parts olive green, and flight feathers olive brown with yellowish margins. Underparts golden-yellow, except for the black chin, throat and bib (in adult males) or chestnut-washed throat and upper chest (some females).
Distribution
Sub-Saharan Africa: Cameroon to Ethiopia, and south to South Africa.
Taxonomy
Subspecies
Three subspecies[1]:
male has a yellower head, and smaller bib than nominate race

P. o. suahelicus:
smaller than nominate race, male washed golden brown.
Habitat
Well-wooded areas with thick cover, but avoids forest interior.
Behaviour
Resident in pairs with up to three young, remaining in their home range throughout the year.
Diet
Forages in foliage and bark for invertebrates, berries, fruit and nectar.
Vocalisation
Inconspicuous, often located by the call, a loud decending tee-tee-tee-tee.
References
Clements, J. F., T. S. Schulenberg, M. J. Iliff, D. Roberson, T. A. Fredericks, B. L. Sullivan, and C. L. Wood. 2018. The eBird/Clements checklist of birds of the world: v2018. Downloaded from http://www.birds.cornell.edu/clementschecklist/download/
Recommended Citation
External Links