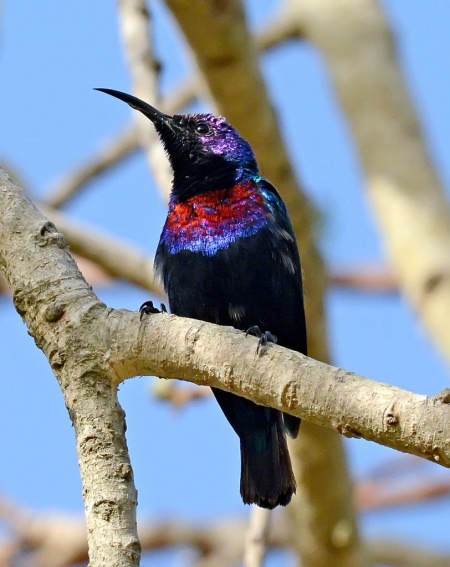 Cinnyris coccinigastrus
Nectarinia coccinigaster
Identification
13–14 cm (5-5½ in); a medium-large sunbird with a fairly long decurved bill.
The adult male is very dark, having a metallic dark green mantle, back & inner wing with and a glossy dark blue rump. The chin and throat are metallic violet transforming to metallic scarlet on the breast.
Adult females are dark grey above, pale grey over the throat and have a yellow wash on the belly which is streaked grey.
Immatures are like the adult female but with blackish areas around the throat. The young males progressively develop metallic colouration initially from the chin area and on the inner wings.
Distribution
West and central tropical Africa: found from Senegal to Sierra Leone, east to southern Nigeria, Cameroon, Central African Republic, north-eastern Democratic Republic of the Congo, and south-western South Sudan; non-breeding visitor to north-eastern Gabon.
Taxonomy
This is one of the many Sunbirds that have recently been moved to the genus Cinnyris from the genus Nectarinia.
This is a monotypic species[1].
Habitat
Wet savanna and woodland with Oil Palms Elaeis guineensis.
Behaviour
Diet
Their diet consists of nectar, seeds, spiders and insects, hawking for flying ants and termites.
Breeding
They lay 1-2 eggs in an oval suspended nest in a tree.
References
Clements, J. F., T. S. Schulenberg, M. J. Iliff, D. Roberson, T. A. Fredericks, B. L. Sullivan, and C. L. Wood. 2017. The eBird/Clements checklist of birds of the world: v2017, with updates to August 2017. Downloaded from http://www.birds.cornell.edu/clementschecklist/download/
Handbook of the Birds of the World Alive (retrieved Apr 2018)
BF Member observations
Recommended Citation
External Links