Alternative name: Spur-winged Plover
Disambiguation: this is the African and Middle Eastern species. For the species from Australia and New Zealand, see Masked Lapwing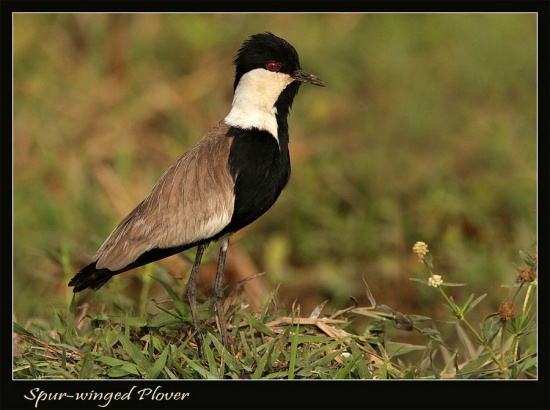 Vanellus spinosus
Identification
25–28 cm (9¾-11 in)
Black crown, chest, throat and tail
White face
Light brown wings and back
Black bill and legs
Distribution
Africa: found from Senegambia to the Red Sea, north-eastern Tanzania and eastern Mediterranean.
Taxonomy
This is a monotypic species[1].
Habitat
A variety of aquatic habitats; river-side marshes, flooded fields, damp grassland and mangroves
Behaviour
Diet
The diet includes insects and other invertebrates, which are picked from the ground.
Breeding
The clutch consists of 2 blotchy yellowish eggs which are laid in a ground scrape.
References
Clements, J. F., T. S. Schulenberg, M. J. Iliff, D. Roberson, T. A. Fredericks, B. L. Sullivan, and C. L. Wood. 2017. The eBird/Clements checklist of birds of the world: v2017, with updates to August 2017. Downloaded from http://www.birds.cornell.edu/clementschecklist/download/
Wikipedia
BF Member observations
Recommended Citation
External Links