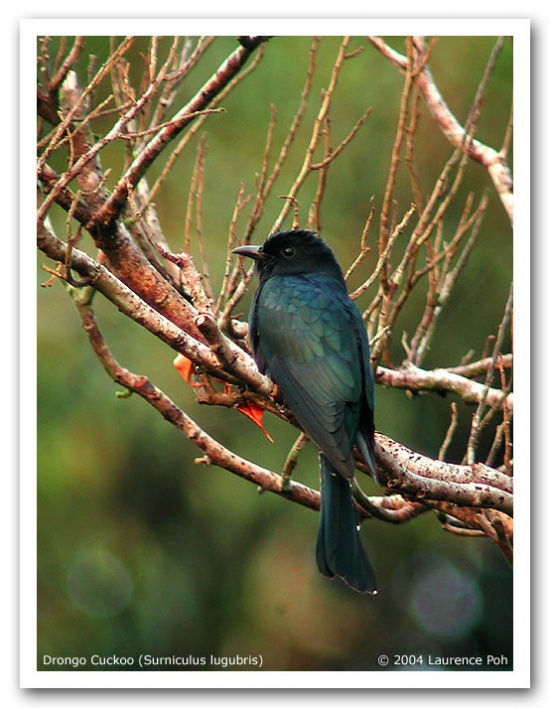 Surniculus lugubris
Identification
25cm.
Overall glossy black.Small white nuchal patch and white thighs are difficult to observe in the field.

From Drongos by thinner slightly down curved beak, forked tail (slightly) with white barrings on vent and under tail coverts.
Juvenile is slightly browner and has white spots on body and coverts.
Distribution
Asia: found in the Indian sub-continent, through south-east Asia to the Greater Sundas and Bali.
Taxonomy
Subspecies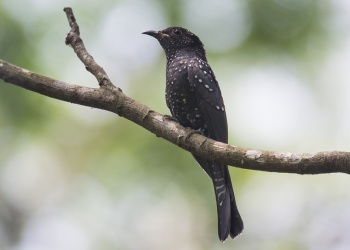 Clements recognizes three subspecies[1]:
This species was formerly included in Asian Drongo-Cuckoo.
Habitat
Forest and forest edges.
Behaviour
Keeps to the canopy and the crown of tall trees. Does not chase insects from a open perch in the manner of drongos.
A known brood parasite of Striped Tit-Babbler and Olive-winged Bulbul.
Very vocal.
References
Clements, J. F., T. S. Schulenberg, M. J. Iliff, D. Roberson, T. A. Fredericks, B. L. Sullivan, and C. L. Wood. 2017. The eBird/Clements checklist of birds of the world: v2017, with updates to August 2017. Downloaded from http://www.birds.cornell.edu/clementschecklist/download/
BF Member observations
Recommended Citation
External Links