Alternative name: Steel-blue Widow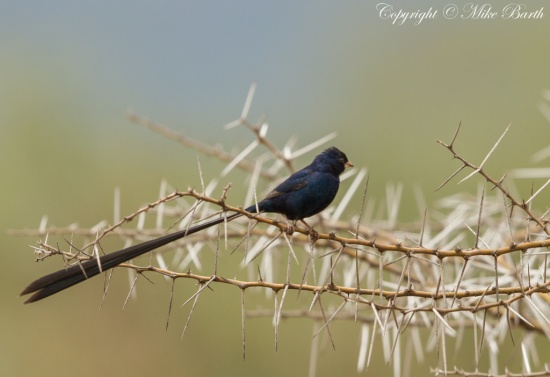 Vidua hypocherina
Identification
10-11 cm (4-4¼ in), breeding male 30-31 cm (11¾-12¼ in) including tail.
Male
Glossy blue-black plumage with (usually concealed) small white patch on upper flank
Extremely elongated central two pairs of tail feathers
Dark brown upperwing, white inner webs of primaries and secondaries (visible as broad white band from below), white underwing-coverts
White short and stubby bill
Grey legs
Similar to female in non-breeding, but with more distinctly blackish and white head markings
Female
Dark brown crown with whitish central streak
Whitish supercilium
Light greyish face with dark streak behind eye and indistinct streak below greyish ear patch
Grey-brown upperparts with black streaks
Dark tail with white edge on inside and tips of feathers and narrower white edge on outer margin
Brown upperwing, buffy white inner webs of primaries and secondaries
Grey breast, whitish throat, side of breast and flanks, streaked buff and grey
White undertail-coverts and underwing-coverts
Grey bill, darker on upper mandible
Juveniles are similar to females.
Similar species
Female and non-breeding male differ from other Whydahs by tiny pale bill, grey legs and more definite eyestripe. They also have a less strongly patterned face, less rufous on head and upperparts and a smaller grey bill than Pin-tailed Whydah.
Distribution
Eastern Africa: South Sudan, northeast Uganda, Ethiopia, northwest and southern Somalia, Kenya and south to central Tanzania.
Uncommon in its range.
Taxonomy
This is a monotypic species.
Habitat
Bushy habitats below 1400m and dry savanna.
Behaviour
Diet
Feeds on small grass seeds. Forages on the ground. Searches for seeds by rapidly kicking aside topsoil with one foot and then the other, then hops backwards and pecks.
Breeding
A brood-parasitic, main hosts are Black-cheeked Waxbill and Black-lored Waxbill. Lays in May in South Sudan, season June to September at Lake Baringo (Kenya) and May to July at Lake Victoria. Lays one or two eggs in a parasitized nest.
Movements
A resident species, some seasonal movements occurs.
References
Clements, J. F., T. S. Schulenberg, M. J. Iliff, D. Roberson, T. A. Fredericks, B. L. Sullivan, and C. L. Wood. 2016. The eBird/Clements checklist of birds of the world: v2016, with updates to August 2016. Downloaded from http://www.birds.cornell.edu/clementschecklist/download/
Handbook of the Birds of the World Alive (retrieved August 2014)
Recommended Citation
External Links