Crithagra gularis
Serinus gularis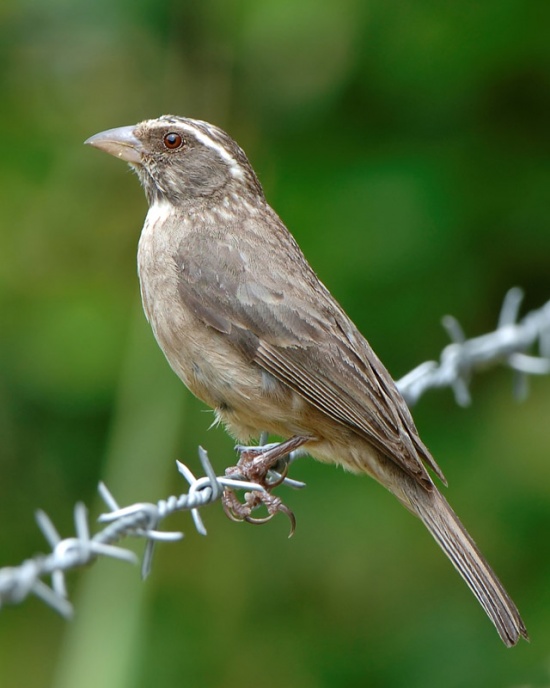 Identification
13-14 cm. Pinkish-brown mantle and back with some faint streaking and a plain pinkish-brown rump; white-streaked crown, greyish-brown face, nape and neck, and white supercilium and chin; buff underparts, buffy grey on the breast. The sexes are similar, but some females show a little breast streaking. The juvenile has less head streaking, a dull supercilium, more heavily streaked upperparts, and heavy streaking on the pale grey underparts.
Distribution
Taxonomy
Five subspecies recognized:
Formerly considerd conspecific with West African Seedeater (and still so by Clements).

Habitat
Open woodland and scrub, including savanna, orchards, and gardens.
Behaviour
It builds a compact cup nest in scrub.
The diet includes soft fruit, weed seeds and buds, and sometimes insects. Large flocks can damage crops.
References
Clements, J. F., T. S. Schulenberg, M. J. Iliff, D. Roberson, T. A. Fredericks, B. L. Sullivan, and C. L. Wood. 2017. The eBird/Clements checklist of birds of the world: v2017, with updates to August 2017. Downloaded from http://www.birds.cornell.edu/clementschecklist/download/
Gill, F and D Donsker (Eds). 2015. IOC World Bird Names (version 5.3). Available at http://www.worldbirdnames.org/.
Dickinson, EC, ed. 2014. The Howard and Moore Complete Checklist of the Birds of the World. 4th ed. Princeton: Princeton Univ. Press. ISBN 978-0956861122
Sinclair I & Ryan P. 2003. Birds of Africa south of the Sahara. Princeton University Press. ISBN 0620207299
External Links