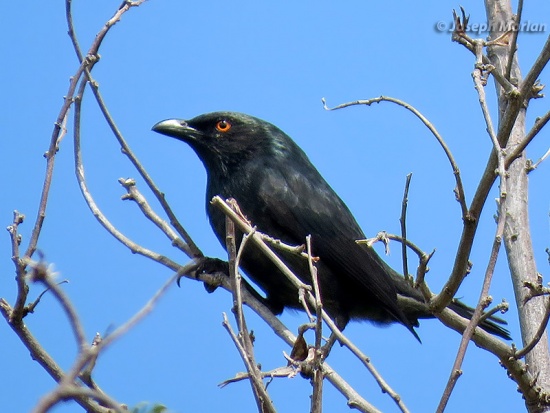 Aplonis striata
Identification
18 cm (7 in)

Male is larger
Black with violet gloss on head
Chin and throat black with green gloss
Breast and belly feathers black tipped turquoise-green
Blackish-brown rump and back
Dull dark brown wings and tail
Matt black lower belly and undertail-coverts
Eye varies from red to orange-yellow
Heavy black bill
Metallic blue legs
In flight, appears fairly round-winged and short-tailed
Female is smaller
Uniform mousy-grey
Darker on lores, wings and tail
Slightly streaked on throat
Paler on lower breast to undertail-coverts
Reddish eyes
Juvenile is similar to female but has browner eye.
Similar Species
Differs from South Melanesian Cuckooshrike and New Caledonian Cuckooshrike by orange or red eye, short tail and uniform glossy black or grey plumage. Male differs from Island Thrush by blackish legs and bill.
Variations
A. s. atronitens, endemic to Ouvéa, Lifou and Maré, has larger bill, male has more green gloss on head and female is darker, sometimes much darker grey with greenish gloss.
Distribution
Endemic to New Caledonia and the Loyalty Islands. Common and widespread in its small range.
Taxonomy
Genus name sometimes given as Aplornis.
Subspecies
This is a polytypic species. Two subspecies recognized[1].
A. s. striata: Forests of New Caledonia
A. s. atronitens: Loyalty Islands
Habitat
Forested areas including forest edge, clearings, and savanna and gardens; also nearby coconut plantations and second growth; also in villages.
Behaviour
Actions
Pairs and flocks of up to 25 birds forage at all levels in the forest. Occasionally on the ground where they break snails against rocks. More often flying fast through the canopy, and perching on exposed tree-tops.
Diet
Feeds on fruits (papaya, wild tomatoes, pepper) and insects.
Breeding
Breeding season from December to January. The nest is a platform made of twigs, placed in a hole in a tree.
Vocalisation
Noisy. Calls include loud clear thin whistles, often sharper and more metallic in flight. Song is rushed and includes clear clicks, squeaks and fluid warbles.
Movements
Presumably a resident species.
References
Clements, J. F., T. S. Schulenberg, M. J. Iliff, S. M. Billerman, T. A. Fredericks, B. L. Sullivan, and C. L. Wood. 2019. The eBird/Clements Checklist of Birds of the World: v2019. Downloaded from http://www.birds.cornell.edu/clementschecklist/download/
Del Hoyo, J, A Elliott, and D Christie, eds. 2009. Handbook of the Birds of the World. Volume 14: Bush-shrikes to Old World Sparrows. Barcelona: Lynx Edicions. ISBN 978-8496553507
Craig, A. & Feare, C. (2019). Striated Starling (Aplonis striata). In: del Hoyo, J., Elliott, A., Sargatal, J., Christie, D.A. & de Juana, E. (eds.). Handbook of the Birds of the World Alive. Lynx Edicions, Barcelona. (retrieved from https://www.hbw.com/node/60841 on 3 December 2019).
Dutson, G. (2011) Birds of Melanesia, Christopher Helm, London.
Recommended Citation
External Links