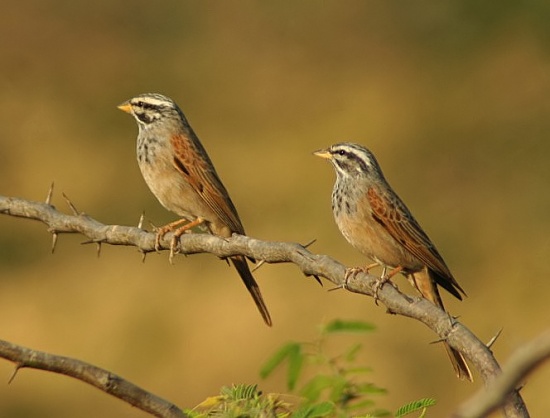 Emberiza striolata
Identification
14cm long
Chestnut body
Grey head with darker streaking

Female: head is brownish-grey with more diffuse streaking
Distribution
Africa, Middle East and Asia
Taxonomy
Subspecies
There are 3 subspecies[1]:
Highlands of west-central Sudan (Jebel Marra)
Was formerly considered conspecific with House Bunting.
Habitat
Rocky substratum, dry scrub, thorn forests irrigated fields, mountain sides.
Behaviour
Breeding
The clutch consists of 2-4 eggs which is laid in a nest built in a hole in a wall or building. Incubation is 14 days.
Diet
The diet consits mostly of seeds, however insects are fed to the young.
References
Clements, JF. 2009. The Clements Checklist of Birds of the World. 6th ed., with updates to December 2009. Ithaca: Cornell Univ. Press. ISBN 978-0801445019.
Avibase
BF Member observations
Wikipedia
Recommended Citation
External Links