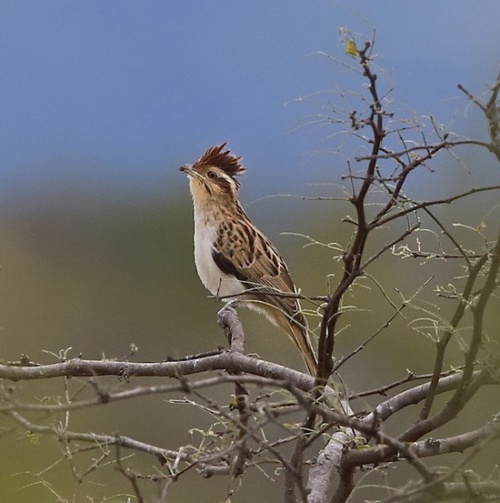 Tapera naevia
Identification
26–30 cm (10¼-11¾ in)
White supercilium
Dark malar stripe
Greyish-brown upperparts with black streaks
Dull white underparts
Black crest (raised in display)
Long, graduated tail
Sexes similar.
Distribution
Central and South America
Central America: Mexico, Guatemala, Belize, El Salvador, Honduras, Nicaragua, Costa Rica, Panama and Trinidad
South America: Colombia, Venezuela, Guyana, Suriname, French Guiana, Ecuador, Peru, Bolivia, Brazil, Paraguay, Uruguay and Argentina.
Taxonomy
Subspecies
Two subspecies are recognized[1]:
Two additional subspecies, chochi and major are generally considered invalid[1].
Habitat
Dry and cloud forests and forest edges, scrubby areas and marshes.
Behaviour
Breeding
It is a brood parasite mostly of spinetails and thornbirds. They lay 1 or 2 white or bluish eggs which hatch after 15 days, fledging 18 days later.
Diet
The diet includes large insects.
References
Clements, J. F., T. S. Schulenberg, M. J. Iliff, D. Roberson, T. A. Fredericks, B. L. Sullivan, and C. L. Wood. 2016. The eBird/Clements checklist of birds of the world: v2016, with updates to August 2016. Downloaded from http://www.birds.cornell.edu/clementschecklist/download/
Avibase
Wikipedia
BF Member observations
Recommended Citation
External Links