Alternative name: Javan Coucal
Centropus nigrorufus
Identification
46 cm

Glossy black upperparts (purple gloss on mantle)
Purple gloss to black underparts
Rufous wings with black tipped flight feathers and upperwing-coverts
Long black tail
Red iris; black bill and feet
Distribution
South-east Asia: found in the lowlands of Java.
Taxonomy
This is a monotypic species[1].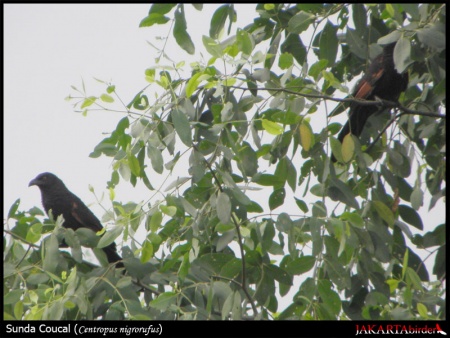 Habitat
Mangrove forests, dry shrubland and swamps.
Behaviour
Diet
The diet includes grasshoppers, large moths, caterpillars, large bugs, pupae, snails, slugs, centipedes, crabs, birds' and insect eggs, frogs and treesnakes.
Breeding
Its nest is built from fresh and dry fern leaves; the clutch consists of 1–5 white eggs.
References
Clements, JF. 2009. The Clements Checklist of Birds of the World. 6th ed., with updates to December 2009. Ithaca: Cornell Univ. Press. ISBN 978-0801445019.
BirdLife International
birdbase.hokkaido
Recommended Citation
External Links