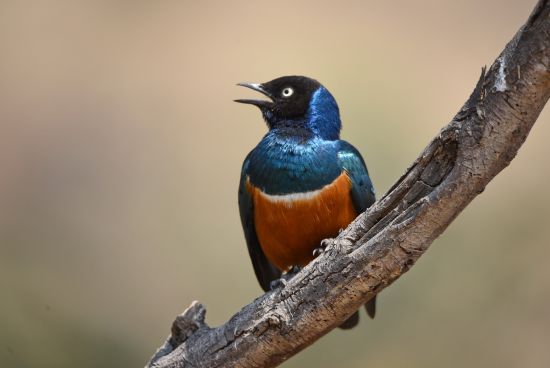 Lamprotornis superbus
Identification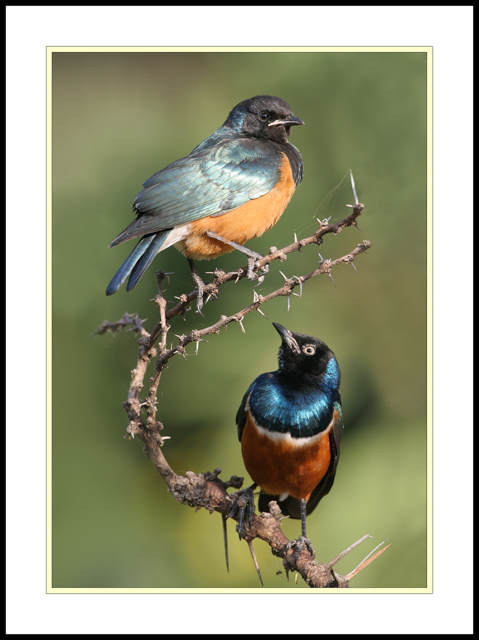 18cm. A small, short-tailed starling with a distinctive plumage.
Black head
Iridescent blue-to-green back, upper breast, wings and tail
Red-orange belly separated from the blue breast by a white band
White undertail-coverts and wing linings
Cream iris
Sexes similar. Juveniles have duller plumage with no more than a suggestion of the white breast band. Their irises are brown, later greyish white.
Similar species
Hildebrandt's Starling and Shelley's Starling are similar but both lack the white breast band and the white undertail-coverts.
Distribution
Found in southeast South Sudan, northeast Uganda, Ethiopia, Somalia, Kenya and south to central Tanzania.
Widespread and abundant in its range.
Taxonomy
This is a monotypic species.
Habitat
Open woodland (also very arid parts), cultivated areas, gardens and around human habitation. Occurs up to 3000m.
Behaviour
Feeds mainly on insects, but takes also berries, fruit and some nectar. Scavenges at picnic sites.
Forages in small flocks on the ground.
Associates with Greater Blue-eared Glossy-Starling and White-headed Buffalo-Weaver in Somalia, sometimes also with Shelley's Starling. In Ethiopia often seen with Stresemann's Bushcrow and White-crowned Starling, in Kenya with Hildebrandt's Starling and in Tanzania with Red-billed Buffalo-Weaver and Rufous-tailed Weaver.
A co-operative breeder, most pairs have helpers (usually male offspring from previous broods). The nest is a domed structure with a side entrance, made with twigs and grass. It's placed in a thorn tree, occasionally in a tree hole. Lays 4 eggs.
Presumably a resident species.
References
Clements, J. F., T. S. Schulenberg, M. J. Iliff, S. M. Billerman, T. A. Fredericks, B. L. Sullivan, and C. L. Wood. 2019. The eBird/Clements Checklist of Birds of the World: v2019. Downloaded from http://www.birds.cornell.edu/clementschecklist/download/
Del Hoyo, J, A Elliott, and D Christie, eds. 2009. Handbook of the Birds of the World. Volume 14: Bush-shrikes to Old World Sparrows. Barcelona: Lynx Edicions. ISBN 978-8496553507
Recommended Citation
External Links