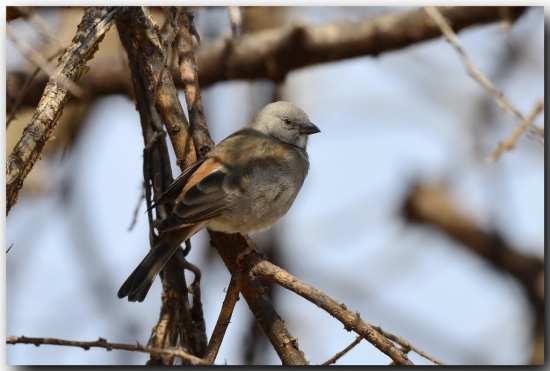 Passer suahelicus
Identification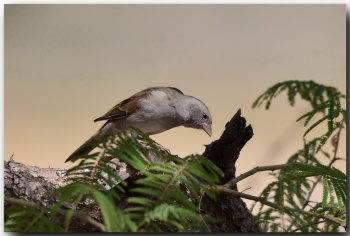 15 - 16cm (6-6¼ in)
Greyish-brown head, neck, back and underparts
Brown upperwing and tail
Chestnut-red shoulder
Small white wing-bar
Sometimes paler greyish area on throat
Blackish-horn bill
Sexes similar. Juveniles are very similar too but they lack the white wing-bar
Similar Species
Very similar to Parrot-billed Sparrow, Northern Grey-headed Sparrow and Swainson's Sparrow. Compared to Grey-headed Sparrow note the grey-brown more or less uniform mantle. It's also darker below than Northern Grey-headed Sparrow.
Distribution
Found in southern Kenya, northern Tanzania and patchily into southwest Tanzania.
Generally common but a poorly known species.
Taxonomy
This is a monotypic species[1].
Forms a superspecies with Northern Grey-headed Sparrow, Swainson's Sparrow, Parrot-billed Sparrow and Southern Grey-headed Sparrow. All are often treated as conspecific.
Habitat
Grassland with some trees and light woodland. Occurs up to 2000m.
Behaviour
Diet
Feeds mainly on seeds.
Breeding
Breeding season January to May, coinciding with rains. The nest is an untidy dome with a side entrance. It's placed in a hole in a tree or a house. May also use old nests of swallows. No other information.
Movements
A resident species with some local movements during rains.

References
Clements, J. F., T. S. Schulenberg, M. J. Iliff, D. Roberson, T. A. Fredericks, B. L. Sullivan, and C. L. Wood. 2018. The eBird/Clements checklist of birds of the world: v2018. Downloaded from http://www.birds.cornell.edu/clementschecklist/download/
Del Hoyo, J, A Elliott, and D Christie, eds. 2009. Handbook of the Birds of the World. Volume 14: Bush-shrikes to Old World Sparrows. Barcelona: Lynx Edicions. ISBN 978-8496553507
Recommended Citation
External Links