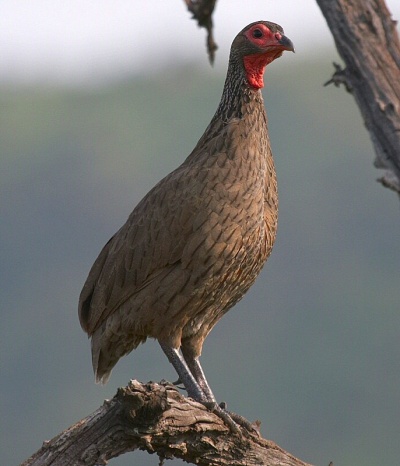 Alternative name: Swainson's Spurfowl
Pternistis swainsonii
Francolinus swainsonii
Identification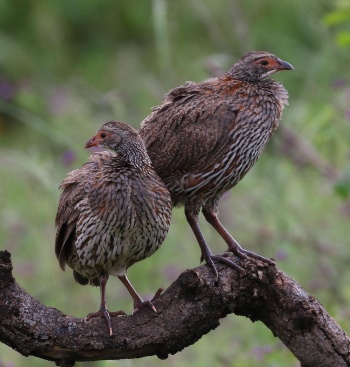 Male 38 cm (15 in), female 33 cm (13 in)
Similar Species
Distribution
Western, Eastern and Southern Africa:
Westrn Africa: Angola
Eastern Africa: Zambia, Mozambique, Malawi
Southern Africa: Namibia, Botswana, Zimbabwe, South Africa, KwaZulu-Natal, Lesotho, Swaziland
Taxonomy
Formerly placed in genus Francolinus.
Subspecies
Pternistis swainsonii has two subspecies[1]:
Habitat
Woodlands, brushlands and farmlands. Preferring dense grassland near grain fields; never far from water.
Behaviour
Diet
They have a varied diet, consisting of bulbs, tubers and roots, seeds, berries and grass; with the addition of some spiders and insects, including locusts, ticks and beetles.
Breeding
The breeding season is related to the rainfall.
References
Clements, J. F., T. S. Schulenberg, M. J. Iliff, D. Roberson, T. A. Fredericks, B. L. Sullivan, and C. L. Wood. 2017. The eBird/Clements checklist of birds of the world: v2017, with updates to August 2017. Downloaded from http://www.birds.cornell.edu/clementschecklist/download/
Avibase
Handbook of the Birds of the World Alive (retrieved June 2018)
Recommended Citation
External Links