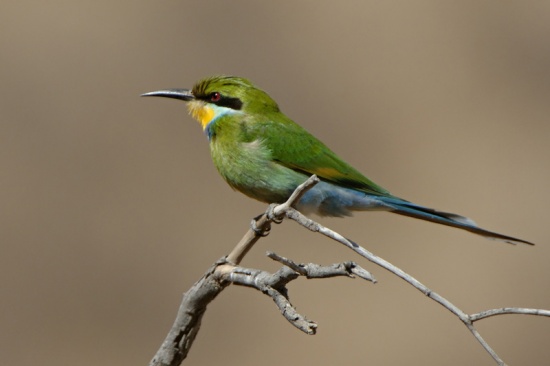 Identification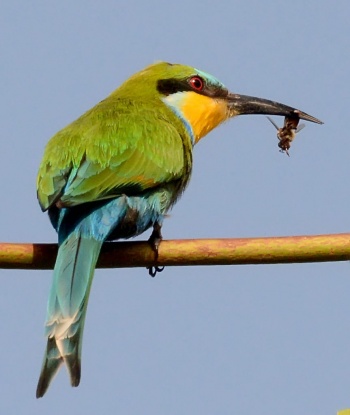 23 cm (9 in)
Green upperparts
Blue rump
Black eyestripe with bluish-white lower edge
Yellow throat with blue lower gorget
Green breast
Black beak
Sexes are alike.
Distribution
Sub-Saharan Africa:
Western Africa: found in Senegambia, Senegal, The Gambia, Guinea-Bissau, Mali, Sierra Leone, Ivory Coast, Burkina Faso, Ghana, Togo, Nigeria, Niger, Chad, Cameroon, Central African Republic, Equatorial Guinea, Gabon, Democratic Republic of Congo, Angola
Eastern Africa: Sudan, South Sudan, Ethiopia, Uganda, Burundi, Tanzania, Zambia, Mozambique, Malawi
Southern Africa: Namibia, Botswana, Zimbabwe, South Africa, KwaZulu-Natal
Taxonomy
Four subspecies are recognised[1]:
Habitat
Mature savanna woodlands.
Behaviour
Diet
Their diet consists of bees, wasps, hornets, butterflies and grasshoppers which are caught in the air. They feed and roost communally.
Breeding
They nest in sandy banks, or similar flat ground. They make a relatively long tunnel in which the 2 to 4 spherical, white eggs are laid. They nest either alone or with 2 or 3 other pairs in close proximity.
References
Clements, J. F., T. S. Schulenberg, M. J. Iliff, D. Roberson, T. A. Fredericks, B. L. Sullivan, and C. L. Wood. 2017. The eBird/Clements checklist of birds of the world: v2017, with updates to August 2017. Downloaded from http://www.birds.cornell.edu/clementschecklist/download/
Avibase
Handbook of the Birds of the World Alive (retrieved Apr 2018)
Recommended Citation
External Links