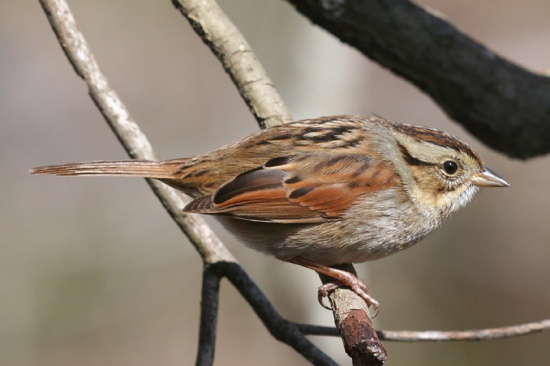 Melospiza georgiana
Identification
5 ins (12-14cm)
Streaked rusty and black upperparts
Gray breast
Light belly
White throat
Solid rust-colored cap (with pale central stripe in winter)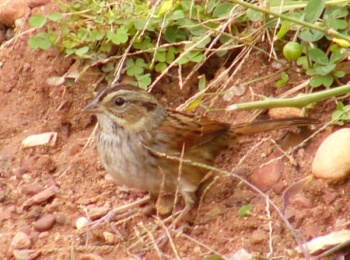 Rusty wings
Gray face
Dark line through the eye
Short bill
Fairly long legs
Distribution
Central Canada, North and Central America
Canada: Alberta, British Columbia, Manitoba, New Brunswick, Newfoundland, Labrador, Nova Scotia, Northwest Territories, Ontario, Prince Edward Island, Saskatchewan and Yukon
United States of America: New England, Alabama, Arkansas, Arizona, California, Colorado, Connecticut, District of Columbia, Delaware, Florida, Georgia, Iowa, Idaho, Illinois, Indiana, Kansas, Kentucky, Louisiana, Massachusetts, Maryland, Maine, Michigan, Minnesota, Missouri, Mississippi, North Carolina, North Dakota, Nebraska, New Hampshire, New Jersey, New Mexico, Nevada, New York, Ohio, Oklahoma, Oregon, Pennsylvania, South Carolina, South Dakota, Tennessee, Texas, Virginia, Vermont, Washington, Wisconsin, West Virginia and Wyoming
Central America: Mexico and Baja California
Taxonomy
Subspecies[1]
There are 3 subspecies:
Habitat
Swamps, marshes, damp fields, bogs, floodplains, salt marshes.
Behaviour
Breeding
It builds a bulky nest with leaves arching over the top, which is attached to marsh vegetation.
Diet
The diet includes insects and seeds.
References
Clements, JF. 2009. The Clements Checklist of Birds of the World. 6th ed., with updates to December 2009. Ithaca: Cornell Univ. Press. ISBN 978-0801445019.
Avibase
Wikipedia
BF Member observations
Recommended Citation
External Links
GSearch checked for 2020 platform.