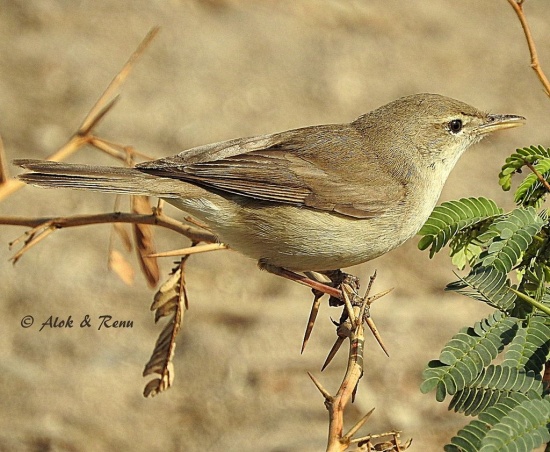 Iduna rama
Identification
Total length 11.5-13 cm (4½-5 in), weight 7-11 g

Pale brown upperparts
Whitish underparts
Buff flanks
Pale edges to outer tail feathers
Square-ended Tail
Short pale supercilium
Strong and pointed bill
Sexes are similar.
Similar Species
In many respects intermediate between Eastern Olivaceous Warbler and Booted Warbler and was previously considered conspecific with the latter. Differentiated from Booted by marginally larger size, more whitish below, greyish above, shorter wings and longer tail and flatter crown. It rarely shows darker toes like Booted.
Smaller than Eastern Olivaceous Warbler (though with some overlap) and shorter-winged; also differs in behaviour, flicking both tail and wings nervously like Booted but not making the steady tail-dipping movements of Eastern Olivaceous.
Could also be confused with Blyth's Reed Warbler, which has rounded tail without white outer tail feathers.
Distribution
Northeast Arabia to Turkestan, Afghanistan and western China. Winters in the southern Indian subcontinent and Sri Lanka. Common summer breeder in Baluchistan and parts of Pakistan.
A rare vagrant to western Europe in August to October; records have increased since it was split as a species, with totals of 14 in Britain and two in Ireland.
Taxonomy
This is a monotypic species[1].
Formerly considered conspecific with Booted Warbler and was, along with the other species of Iduna, included in the genus Hippolais.

Habitat
Open country with bushes and other tall vegetation. Winters in scrub and groves in dry habitat. Breeds in waterside reeds.
Behaviour
Breeding
The clutch consists of 3-4 eggs which are laid in a nest in a bush or vegetation.
Diet
Their diet consists mostly of insects and spiders, with the addition of caterpillars in the breeding season. There is little extra information available.
Gallery
Click on photo for larger image
References
Clements, J. F., T. S. Schulenberg, M. J. Iliff, D. Roberson, T. A. Fredericks, B. L. Sullivan, and C. L. Wood. 2017. The eBird/Clements checklist of birds of the world: v2017, with updates to August 2017. Downloaded from http://www.birds.cornell.edu/clementschecklist/download/
Handbook of the Birds of the World Alive (retrieved February 2016)
Wikipedia
BF Member observations
Recommended Citation
External Links