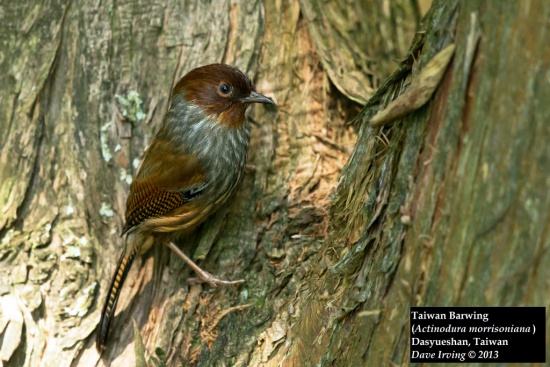 Alternative name: Formosan Barwing
Actinodura morrisoniana
Identification
18 - 19cm. A typical barwing:
Crown and head side chestnut with a dull rufous eyering
Upperparts ochrous-grey with soft whitish streaks on nape and mantle
Flight feathers and tail densely barred with black and rufous
Rufous chin and throat
Olive-grey breast with whitish streaks
Olive-tinged rufous belly with vague streaking
Sexes similar. Juveniles not yet described.
Distribution
Endemic to Taiwan.
Restricted-range species but common in parts of its range.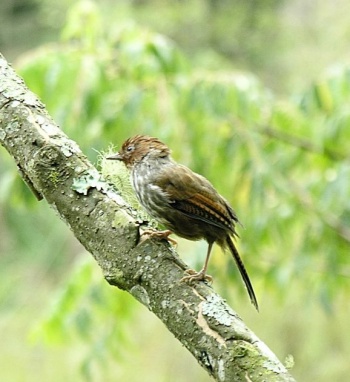 Taxonomy
Monotypic.
Sometimes placed in the genus Ixops.
Habitat
Montane forests, favouring lower and mid levels from 1500m to 3000m.
Behaviour
Feeds on beetle larvae, other insects and their larvae but takes also berries and seeds.
Usually seen singly, in pairs or in small groups. Often toghether with Steere's Liocichla, White-eared Sibia or Taiwan Yuhina.
Breeding season from April to May. The nest is bulky, made with lots of moss and placed on a branch in the canopy. No other information.
Reisent species. Some altitudinal movement in harsh winters may occur.
References
Clements, JF. 2008. The Clements Checklist of Birds of the World. 6th ed., with updates to December 2008. Ithaca: Cornell Univ. Press. ISBN 978-0801445019.
Del Hoyo, J, A Elliott, and D Christie, eds. 2007. Handbook of the Birds of the World. Volume 12: Picathartes to Tits and Chickadees. Barcelona: Lynx Edicions. ISBN 978-8496553422
Recommended Citation
External Links