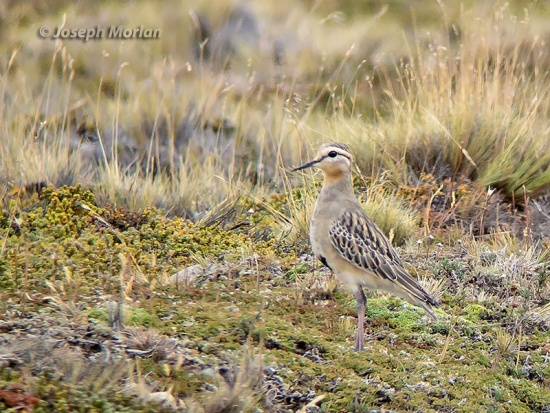 Oreopholus ruficollis
Identification
Length 25–29 cm. (10-11½ in.)
Sexes alike. Adults are overall pale buff, with a warm tawny throat patch, gray breast and sides to the neck, a small black patch on the belly, and a narrow white or buff supercilium, black eyeline and grey crown. It is a fairly upright plover with long, slender bill; striking plumage, mainly rich buff with heavily striped back with dark streaks on pale yellow-buff background. Juvenile similar to adult but lacks tawny throat, black belly patch browner and much reduced, and upperparts faintly scalloped. Legs grayer, less pink.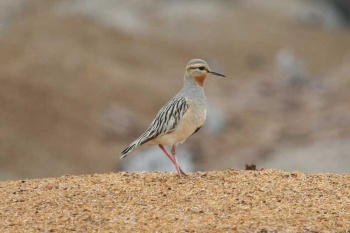 Similar Species
American Golden-Plover lacks white wing-stripe, has grey (not white) underwings and lacks black belly patch.
Distribution
Taxonomy
The sole living member of the genus Oreopholus. Some authorities include it along with the Eurasian Dotterel in the genus Eudromias. However the resemblance appears to be superficial and most authors now merge Eudromias with the typical plovers into Charadrius.
Subspecies
This is a polytypic species. Two subspecies recognized.[1]
O. r. pallidus: Smaller, paler overall with less grey.
Coastal northern Peru (south to northern La Libertad).
O. r. ruficollis: Larger and darker.
Southern Peru (irregularly from Lima) south through western Bolivia, Chile and western and north-central Argentina to Tierra del Fuego; non-breeding east to eastern Argentina and southeast Brazil.
Habitat
Dry shrubland, temperate grassland, high-altitude grassland, and pastureland.
Behaviour
They often camouflage themselves by standing upright, turning the striped back towards the observer.
Breeding
Nests on sandy and nearly vegetation-free lomas zone near sea-level; also on top of clump of tussock grass sometimes surrounded by concentric pebbles. Clutch of four eggs.
Diet
The main foods are beetles (adults and larvae), earthworms and vegetable remains.
Vocalisations
Usually silent. When flushed or in flight gives a vibrating drawn-out whistle prrrrruu on same pitch.
Movements
Poorly known. Highland breeders move to lower elevations after breeding. Southernmost populations migrate north. Otherwise believed to be resident.
References
Clements, J. F., T. S. Schulenberg, M. J. Iliff, D. Roberson, T. A. Fredericks, B. L. Sullivan, and C. L. Wood. 2018. The eBird/Clements checklist of birds of the world: v2018. Downloaded from http://www.birds.cornell.edu/clementschecklist/download/
Jaramillo, A. 2003. Birds of Chile. Princeton & Oxford: Princeton Univ. Press. ISBN 978-0691117409
Tawny-throated Dotterel (Oreopholus ruficollis), In Neotropical Birds Online (T. S. Schulenberg, Editor). Cornell Lab of Ornithology, Ithaca, NY, USA. retrieved from Neotropical Birds Online: https://neotropical.birds.cornell.edu/Species-Account/nb/species/tatdot1
Wiersma, P., Kirwan, G.M. & Boesman, P. (2019). Tawny-throated Dotterel (Oreopholus ruficollis). In: del Hoyo, J., Elliott, A., Sargatal, J., Christie, D.A. & de Juana, E. (eds.). Handbook of the Birds of the World Alive. Lynx Edicions, Barcelona. (retrieved from https://www.hbw.com/node/53858 on 16 January 2019).
Recommended Citation
External Links