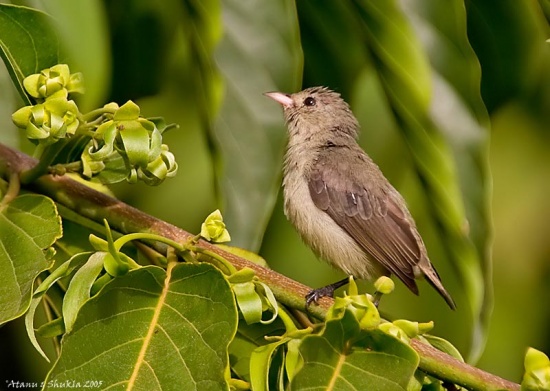 Alternative name: Tickell's Flowerpecker; Small Flowerpecker
Dicaeum erythrorhynchos
Identification
8cm. A small, plain-looking Flowerpecker.
Strongly curved, mostly pale flesh bill
Greyish plumage (slightly yellow when fresh)
Slightly paler lores and face, yellow-buff tinge at centre of underparts and narrow whitish tips on tail when fresh
Sexes alike.
Juveniles are shorter-billed, paler and greyer overall.
Similar species
Lacks the pale supercilium of Nilgiri Flowerpecker. Also paler and less dusky olive above than finer- and darker-billed Plain Flowerpecker.
Distribution
Found in most parts of India, southern Nepal, western Bhutan, Bangladesh, Sri Lanka and western and central Burma.
Widespread and locally abundant.
Taxonomy
Two subspecies recognized:
D. e. ceylonense in Sri Lanka
D. e. erythrorhynchos in the rest of its range
Habitat
Found in deciduous forest, mangroves, cultivation, plantations, orchards, open areas with fig trees and urban garden with fruit trees. Often near mistletoes in canopy.
Up to 1400m in Nepal and to 2100m in Sri Lanka.
Behaviour
Feeds mainly on fruits of mistletoes. Takes also nectar, spiders and small insects.
Forages mainly in canopy. Usually seen singly and in pairs. Also in groups in non-breeding season. In Sri Lanka joins mixed-species flocks.
Breeding season January to June in northern India and Nepal, February to May and August to September in southern India.
The nest is a small pinkish-brown oval purse made of fine grass, vegetable down, bark, moss and other material. It's suspended from a twig among leaves some 1.5 to 12m above the ground. Lays 1 to 3 eggs.
Some altitudinal movements in the Himalayas recorded.
Vocalization
The call of this flowerpecker is a short tick call.
References
Clements, JF. 2011. The Clements Checklist of Birds of the World. 6th ed., with updates to August 2011. Ithaca: Cornell Univ. Press. ISBN 978-0801445019. Spreadsheet available at http://www.birds.cornell.edu/clementschecklist/downloadable-clements-checklist
Del Hoyo, J, A Elliott, and D Christie, eds. 2008. Handbook of the Birds of the World. Volume 13: Penduline-tits to Shrikes. Barcelona: Lynx Edicions. ISBN 978-8496553453
Rasmussen, PC and JC Anderton. 2005. Birds of South Asia: The Ripley Guide. Barcelona: Lynx Edicions. ISBN 978-8487334672
Recommended Citation
External Links