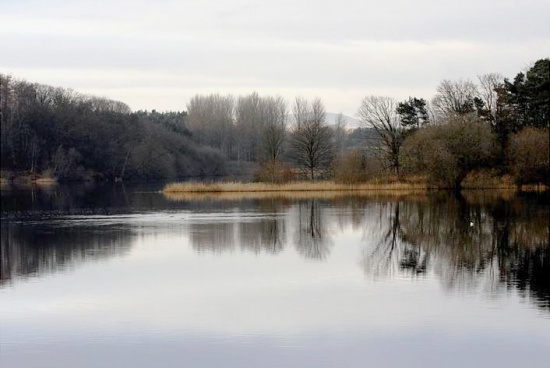 Overview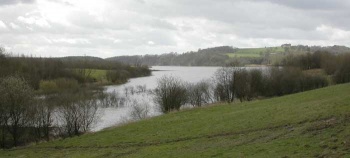 Situated in the upper part of the River Churnet valley just north of Leek, Tittesworth Reservoir is one of the few large areas of open water in North Staffordshire. Its size and variety of habitats make it attractive to resident and passage birds and it is worthy of a birdwatching visit at any time of year. Although its elevation and topographic situation does not allow Tittesworth to attract the numbers of birds seen at the other Midland reservoirs further to the south, it does nevertheless have a very impressive species list for an inland county location, thanks to regular watching by a number of observers.
See West Midland Bird Club website for more details.
Birds
Notable Species
Although inevitably difficult to contact with, Osprey is one of the site's specialities in early Spring and Autumn – see WMBC website for fuller review of seasonable specialities.
Rarities
See WMBC website for details
Check-list
Birds you can see here include:
Mute Swan, Whooper Swan, Pink-footed Goose, Greylag Goose, Canada Goose, Barnacle Goose, Brent Goose, Ruddy Shelduck, Common Shelduck, Mandarin Duck, Eurasian Wigeon, Gadwall, Teal, Mallard, Northern Pintail, Garganey, Northern Shoveler, Red-crested Pochard, Common Pochard, Ferruginous Duck, Tufted Duck, Greater Scaup, Lesser Scaup, Common Eider, Long-tailed Duck, Black Scoter, Common Goldeneye, Goosander, Ruddy Duck, Common Pheasant, Red-throated Diver, Great Northern Diver, Little Grebe, Great Crested Grebe, Red-necked Grebe, Slavonian Grebe, Northern Fulmar, Northern Gannet, Cormorant, Shag, Bittern, Little Egret, Great White Egret, Grey Heron, Glossy Ibis, Red Kite, Marsh Harrier, Hen Harrier, Goshawk, Sparrowhawk, Common Buzzard, Osprey, Common Kestrel, Merlin, Hobby, Peregrine, Water Rail, Moorhen, Coot, Oystercatcher, Avocet, Little Ringed Plover, Common Ringed Plover, Kentish Plover, European Golden Plover, Lapwing, Sanderling, Temminck's Stint, White-rumped Sandpiper, Pectoral Sandpiper, Dunlin, Ruff, Jack Snipe, Common Snipe, Woodcock, Black-tailed Godwit, Whimbrel, Curlew, Common Sandpiper, Green Sandpiper, Wood Sandpiper, Greenshank, Common Redshank, Ruddy Turnstone, Grey Phalarope, Black-legged Kittiwake, Black-headed Gull, Little Gull, Mediterranean Gull, Common Gull, Lesser Black-backed Gull, Herring Gull, Great Black-backed Gull, Little Tern, Black Tern, Sandwich Tern, Common Tern, Arctic Tern, Little Auk, Stock Dove, Woodpigeon, Collared Dove, Common Cuckoo, Barn Owl, Little Owl, Tawny Owl, Short-eared Owl, Common Swift, Kingfisher, Green Woodpecker, Great Spotted Woodpecker, Lesser Spotted Woodpecker, Sky Lark, Shore Lark, Sand Martin, Swallow, House Martin, Tree Pipit, Meadow Pipit, Water Pipit, Yellow Wagtail, Grey Wagtail, PiedWagtail, White Wagtail, Bohemian Waxwing, Dipper, Wren, Dunnock, Robin, Bluethroat, Common Redstart, Whinchat, Stonechat, Northern Wheatear, Blackbird, Fieldfare, Song Thrush, Redwing, Mistle Thrush, Grasshopper Warbler, Sedge Warbler, Reed Warbler, Blackcap, Garden Warbler, Lesser Whitethroat, Common Whitethroat, Chiffchaff, Willow Warbler, Goldcrest, Spotted Flycatcher, Pied Flycatcher, Long-tailed Tit, Blue Tit, Great Tit, Coal Tit, Willow Tit, Marsh Tit, Nuthatch, Treecreeper, Jay, Magpie, Jackdaw, Rook, Carrion Crow, Raven, Starling, House Sparrow, Tree Sparrow, Chaffinch, Brambling, Greenfinch, Goldfinch, Siskin, Linnet, Twite, Lesser Redpoll, Common Redpoll, Arctic Redpoll, Crossbill, Bullfinch, Snow Bunting, Yellowhammer, Reed Bunting, Whistling Swan
Please note: The only assessed and complete list of birds for this site is held within the Staffordshire birds database - contact the Staffordshire County Bird Recorder for details.
Regular postings of "Latest News" are available from the WMBC website
The West Midland Bird Club/ RSPB Macclesfield Group have developed a series of "Tittesworth Bird Challenge" leaflets which provide details on birdwatching at this site at different times of the year. These set users a target total for the birds you are likely to see depending on your level of birding expertise – it's just for fun but, as it provides a printable checklist of the most likely species to be seen at particular seasons, might be of value if you are visiting the area.
Spring into Summer Bird Challenge;
Late Summer-Autumn Bird Challenge;
Current site total
181 species + 2 subspecies and including escapes/ferals.
This list includes records accepted by British Birds Rarities Committee (BBRC) and the County Recorder. It is known to be incomplete (e.g. Spoonbill reported in 2002 not submitted to County Recorder) – a total of 210 species and subspecies is suggested in the Tittesworth logbook. Scarcities prior to 2000 and unsubmitted rarities are likely to be missing. If you are able to add other species please do so here, but do also contact the County Recorder with the additions, and also with descriptions of any rarer species so they can be reviewed and included in the site and county records. See the county list for species which do need descriptions.
Other Wildlife
To do
Site Information
Access and Facilities
Google map for Tittesworth Reservoir
Entry only at the north end with parking (pay-and-display) available on the northern peninsula accessed from the Leek to Buxton road (A53), or via minor roads through Meerbrook to the west. Excellent visitor facilities have been provided by Severn-Trent Water: Visitor Centre, Toilets, car park (access closes in evening but automatic gates allow exit), footpath. Terrain largely good with some metaled path surfaces. Generally dry enough for shoes/boots rather than wellies. Will inevitably be busy during the day so early morning may be best advised for birders seeking solitude!
Visitor Centre sells a range of Opticron binoculars
Disabled access
An edit from anyone with a perspective on this would be valuable
Both hides have ramps and many of the paths are metaled. Path down to Churnet medium-steep. Steps on north east side means only the first field would be accessible for wheelchairs.
The Visitors Centre has at least 2 motorised disabled buggies that they hire out. You will need proof of identity and a deposit. Cost was 2GBP (August 2008) for 3 hours. Buggies are very robust for the terrain. Not sure if these can be booked in advance - we just turned up and one happened to be sat there.
History and Use
Tittesworth is a drinking-water reservoir, owned and run by Severn-Trent Water, which has been developed over the last decades as a recreational site providing walking, picnicing and playground facilities as well as a Visitor Centre, shop and restaurant. No water-based activities are currently hosted - trout fishing for stocked fish ceased in 2007.
Areas of Interest
The road causeway bridge at the north, between the main part of the reservoir and the Conservation Pool, is possibly the best strategic position to view most of the reservoir, but to cover the site properly takes some time. A well-maintained footpath has been provided by Severn-Trent Water and takes visitors around the reservoir. Birders with only a short time available for their visit may be best advised not to walk the entire 5 mile path and concentrate instead on the northern end where the variety of habitats should deliver the vast majority of species 'available' on most days. Two hides overlook the Conservation Pool, the west-side one is generally the best for bird-views, with an aspect taking in views of Hen Cloud and the Roaches just to the north-east, and also holds a log-book if you wish to report your sightings. Arguably the site is at its best in late summer and autumn when the water level (usually) falls and the muddy margins in the north end makes the site of great interest to passing wading birds. A walk up the River Churnet in the north-east end is usually worth including in an itinerary. There is no access around much of the western edge of the water north of the dam where the footpath leaves the reservoir area and follows the road and tracks a few 100 metres 'inland' until it rejoins the reservoir near the old fishing lodge.
Other sites nearby are:
Within a few minutes travel: Rudyard Lake, The Roaches, Gun Hill, North Staffordshire Moors, Knotbury, Longsdon Mill Pool
a little further afield: Swallow Moss, Westport Lake, Berry Hill,
Survey work known
Regular Wetland Bird Survey counts have been performed at the site (any details?);
A Constant Effort Ringing project was run for a short period in late 1980s.
Contact Details
To do
Regularly bird-watched by:
The species list owes much to the patch work performed by regulars at the site and visitors will probably encounter at least one expert happy to help with local info, particularly at weekends at the Visitors' Centre or at the hides/on the road causeway.
Further Reading
Regular newsletter: "Tittesworth Bird News", edited by Ray Perry from all the Log Book entries available from the Visitor Centre and, as a synopsis, from WMBC Tittesworth pages
Regular issues of Tittesworth Reservoir Bird Reports (edited by Phil Wain and John Oakes; Bob Higginbotham; Ray Perry; Brenda Scott.) – see full details on WMBC website. The most recent issue of this will be available for purchase at the Visitor Centre, with proceeds being donated to charity.
A section in Where to Watch Birds in the West Midlands, Graham Harrison et al, 3rd edition 2007, Christopher Helm, ISBN 978-0-7136-6419-5
A paragraph, p.72 in The New Birds of the West Midlands, Graham and Janet Harrison, 2005, Christopher Helm, ISBN 0-9507881-2-0
External Links
Please add if any reputable, non-commercial, sites are known.
Reviews