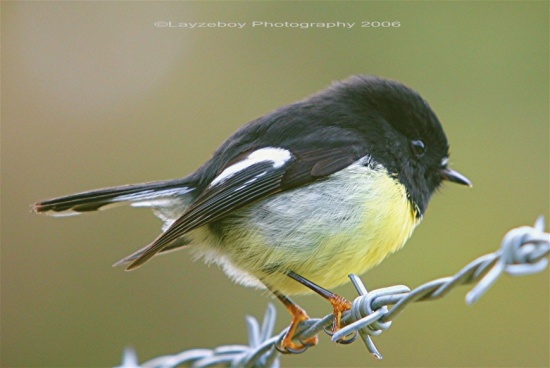 Petroica macrocephala
Identification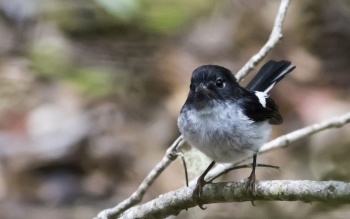 13 cm (5 in)

Male
Black head neck and upperparts
White forehead spot
Black upper wing
White bar on remiges
Adult females have brown head and upperparts.
Sub species vary greatly in size and colour (see[1].
Distribution
Taxonomy
Subspecies
There are five races[1]: of this bird, each restricted to an island and its outlying islands:

P. m. toitoi: black head with white spot above bill, black upperparts and upper breast, white underparts, white wing bar and sides to tail
North Island and adjacent offshore islands (New Zealand)
P. m. macrocephala: and the next two all have a yellow breast
South Island and Stewart Island (New Zealand)
P. m. dannefaerdi: is totally black
Habitat
Native forests.
Behaviour
Highly territorial.
Diet
The diet consist of a variety of insects, also weta, worms and months. Fruit is added during autumn and winter.
Breeding
They nest in a hole in a tree or a sheltered cleft in a bank or rock. The female builds the nest from moss, thin strips of bark, bound together with cobwebs and feathers. The clutch consists of 3-4 white eggs, spotted with dark specks; they are incubated by the female. The young being fed by both adults. There are usually two or three broods each year.
References
Clements, J. F., T. S. Schulenberg, M. J. Iliff, D. Roberson, T. A. Fredericks, B. L. Sullivan, and C. L. Wood. 2016. The eBird/Clements checklist of birds of the world: v2016, with updates to August 2016. Downloaded from http://www.birds.cornell.edu/clementschecklist/download/
Handbook of the Birds of the World Alive (retrieved January 2017)
New Zealand Birds
Recommended Citation
External Links